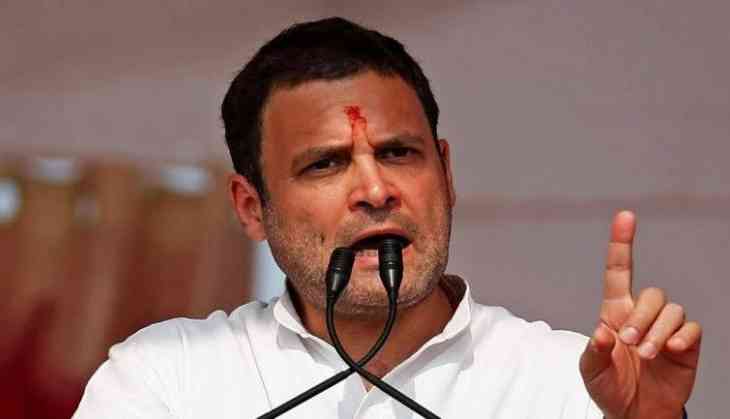 PM Modi attacked by Rahul, asks him to practice what he preaches (ANI)
Congress president Rahul Gandhi on Sunday targeted Prime Minister Narendra Modi over failing education, health facilities in the Bharatiya Janata Party (BJP)-led states like Gujarat.
Addressing a rally here, Gandhi said, "While I was campaigning in Gujarat, people there told me that education is a very expensive affair in the state. Major universities and colleges in Gujarat are backed by private industrialists."
Mocking Prime Minister Narendra Modi's various initiatives, Gandhi said, "Prime Minister Modi started Make in India, sit down India, stand up India, see right India but every product in the market is Make in China."
Further attacking Prime Minister Modi-led government, Gandhi said that he did not receive any answers in connection with waiving the loan of the farmers.
"I met Narendra Modi and asked him to waive the loan of the poor farmers just like he waived the loans of the businessmen. Modiji did not answer my question," the Congress chief said at a rally here.
He then applauded state Chief Minister Siddaramaiah for waving off loans worth "Rs. 8000 crores".
"I posed the same question to Chief Minister Siddaramaiah. The Chief Minister responded that 8,000 crores worth loan can be waived off. He not only replied but also waived the loan," Gandhi added.
Gandhi further said that the Karnataka government provides "subsidised education" and free education to girls.
He further alleged that the money is snatched from the pockets of poor farmers and transferred to the sack of "ten businessmen". "Paisa kisaanon, majdooron ki jeb se nikalkar 10 udyogpatiyon ki jeb mein jaa raha hai."
He asked the prime minister whether he would waive off the loans of farmers the same way he forgave the loans of ten businessmen.
"Aapne desh ke 10 sabse ameer udyogpatiyon ka loan maaf kiya, Modi ji kya aap hindustan ke kisaanon ka loan maaf karoge? Koi jawaab nahi mila (You forgave the loan of ten rich businessmen, Modiji will you also waive off the loan of Hindustan's farmers?"
He asked if Prime Minister Modi even manage to deposit 10 rupees in any account.
Continuing his attack, Gandhi said, "The next time Prime Minister Modi comes to Karnataka, ask him if he belives in Basavanna's policy of 'practice what you preach.'"
"Prime Minister Modi comes and gives long speeches and mentions Basavanna in his address. Prime Minister Modi said that 15 lakhs will be deposited in the banks. Did he even manage to deposit 10 rupees in any account," asked Gandhi.
Speaking about the Basavanna constituency where he is currently conducting rallies, Gandhi said it (Basavanna) has played a great role in the formulation of the Constitution.
"The building of Parliament is in Delhi, but the foundation of its thinking has been laid by Basavanna in Karnataka. I am also very happy that Congress government led by Siddarmaiah follows the principles of Basavanna," he added.
Gandhi said while Congress, as a government believes in taking everybody forward without barriers of caste, economy or gender, BJP is the government for a selected few businessmen. "This is the biggest difference between BJP and us," he said.
Gandhi also flagged off half marathon, 'Vrukshathon' 2018, at the Gol Gumbaz, in Karnataka's Bijapur.
Gandhi is on a three-day visit to Karnataka that began on Saturday, ahead of the assembly elections in the state.
On the first day, he addressed a rally at Athani in Belgaum district, besides other events. Gandhi is due to address rallies in Bagalkot and Dharwad districts, during this visit.
This is Gandhi's second visit to Karnataka ahead of the polls.
In the first leg of his tour, he visited the districts of Bellary, Koppal, Raichur, Yadgir, Gulbarga and Bidar he also stopped at several prominent local temples and religious centres.
Karnataka is expected to go to polls in April or May
-- ANI