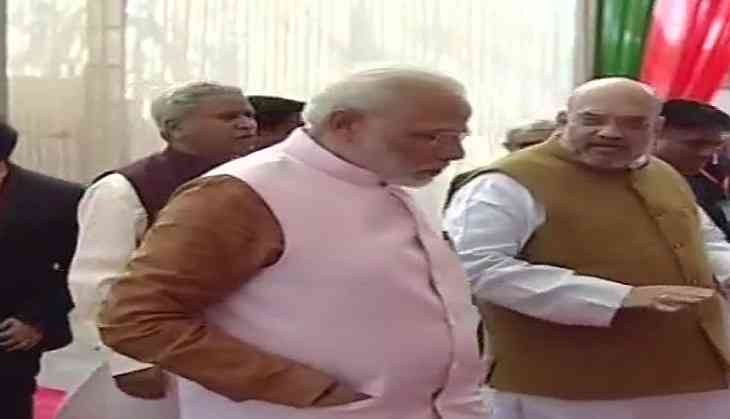 Prime Minister Narendra Modi on Sunday arrived at Deen Dayal Upadhyaya Marg, outside Lutyens' Bungalow Zone in Delhi to inaugurate the Bharatiya Janata Party's (BJP) swanky new headquarters.
The new office of the 38-year-old BJP is a multi-storeyed modern construction fitted with advanced communication tools, enabling party office-bearers to co-ordinate official works with their counterparts in the states.
The construction of the new headquarters had started last year following the Supreme Court's directive that the party offices should be relocated from the Lutyens' Bungalow Zone.
Last year, Prime Minister Modi and party chief Amit Shah had laid the foundation stone of the new headquarters and a Mumbai-based architecture company has designed the new headquarters.
The new premises will have facilities like offices of the party leaders, auditoriums and rooms for discussions and meetings.
The party headquarters will be linked through video-conferencing to all the state headquarters of the party.
BJP veteran LK Advani, Union Home Minister Rajnath Singh, Union Ministers Dharmendra Pradhan and Piyush Goyal also arrived at the venue to attend the inauguration ceremony
-- ANI