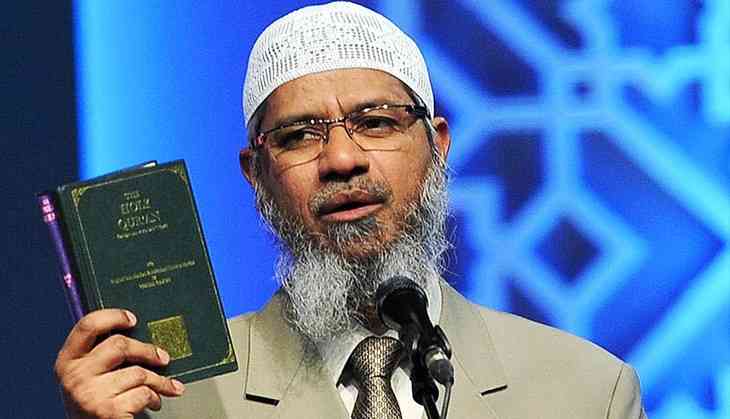 Islamic preacher Zakir Naik
The Regional Passport Office (RPO) on Tuesday revoked the Indian passport of Islamic Research Foundation (IRF) president Dr. Zakir Abdul Karim Naik under the provisions of the Passport Act, 1967, said National Investigation Agency (NIA).
In the course of investigation of the NIA case, Naik has thrice been issued notices but he did not join the investigation. Thereafter on April 21, the NIA Special Court issued a non-bailable warrant of arrest against Naik.
Meanwhile, on June 15, the NIA Special Court, issued proclamation 82 Code of Criminal Procedure (CrPC) requiring the appearance of Naik.
Earlier in the month, the NIA said it was also tracking Naik's financial transactions that include at least 10 companies and 19 properties in Mumbai and Pune, in which Naik has invested an estimated Rs.104 crore.
The NIA has also initiated proceedings to get a Red Corner Notice against Naik and has sent the requisite documents to the National Central Bureau of Interpol in India on May 11, 2017.
Sources said that Naik holds Passport No. Z2200757 that was issued in Mumbai on May 13, 2011. His passport was renewed on January 20, 2016 in Mumbai and a new passport was issued in his name bearing number Z3606623, with a validity of 10 years.
The NIA, on November 18, 2016, on the orders of Ministry of Home Affairs, registered a criminal case against Naik at its Mumbai branch under Sections 153A of Indian Penal Code and Sections 10, 13 and 18 of the Unlawful Activities (Prevention) Act, 1967.
The IRF has already been declared as an Unlawful Association by Government of India as per a notification dated November 17, 2016.
Nailah Noorani and a few close aides of Naik, have revealed financial details to interrogators in their statements duly recorded by the NIA following the relevant procedures of law.
The NIA has been looking for Naik since last year accusing him of encouraging and aiding his followers through his public speeches, lectures and talks, to promote on grounds of religion, disharmony or feelings of enmity, hatred and ill-will between different religious communities and groups.
Naik has delivered over 1500 public lectures/talks in India and abroad. His last public lecture in India was held in Kishanganj, Bihar in March, 2012.
-ANI