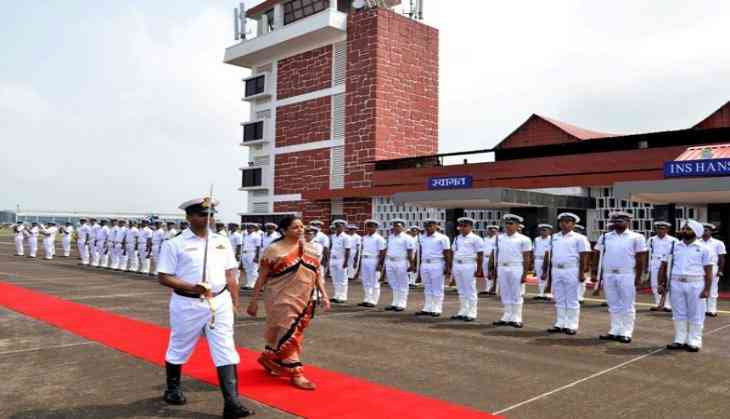 Panaji: Nirmala Sitharam flags off INSV Tarini
Defence Minister Nirmala Sitharaman on Sunday flagged-off all-women crew of Indian Naval Sailing Vessel (INSV) Tarini at the INS Mandovi naval training base near Panaji.
The crew of the 'Sagar Parikrama' comprises of six-member all women team on board the sailing vessel INSV Tarini and will circumnavigate the globe in approximately 165 days.
The crew will return to Goa in April 2018.
"This is not an occasion which can happen once in five years, once in ten years. This is a historic day for India. A historic day, which will be marked in navigation history and globally," Sitharaman said.
She added, "Our women are going to stand out for doing something which mostly wouldn't even have been thought of,"
The Chief of the Naval Staff, Admiral Sunil Lamba expressed his satisfaction at continuation of the legacy of Indian Navy's Ocean sailing expeditions which commenced in 1988 with expedition 'Samudra'.
This was followed by first solo circumnavigation by Captain Dilip Donde (Retd) and non-stop circumnavigation of the globe by Cdr Abhilash Tomy resulting in India joining a select group of nine nations which have achieved such feats. He said that the present circumnavigation by an all women crew is an extension of the above efforts and reflection of the Government's efforts at Women Empowerment.
INSV Tarini is a 55-foot sailing vessel, which was inducted in the Indian Navy earlier this year, showcases the 'Make in India' initiative on the World forum. INSV Tarini is being skippered by Lt. Commander Vartika Joshi, and the crew comprises Lt. Commanders Pratibha Jamwal, P Swathi, and Lieutenants S Vijaya Devi, B Aishwarya and Payal Gupta.
During the voyage, the crew would monitor and report marine pollution on the high seas, as also interact extensively with local PIOs during various port halts to promote Ocean sailing.
During their voyage, the crew would also collate and update Meteorological/ Ocean/ Wave data on a regular basis for accurate weather forecast by India Meteorological Department (IMD) and subsequent analysis by research and development organisations.
The expedition titled 'Navika Sagar Parikrama', is in consonance with the National policy to empower women to attain their full potential. It also aims to help discard the societal attitudes and mindset towards women in India by raising visibility of their participation in challenging environment.
Sailing encourages the use of environment friendly non-conventional renewable energy resources and this expedition therefore aims at harnessing the renewable energy.
-ANI