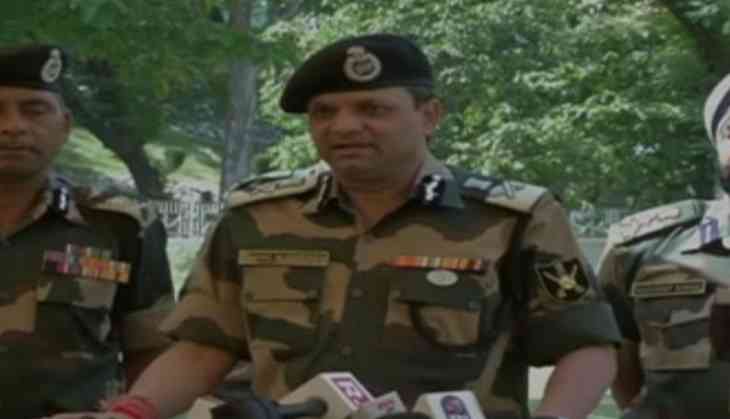 Highlighting the fact that the brutal Krishna Ghati incident occurred post the visit of the Pakistan Army Chief to the Line of Control (LoC), the Border Security Force (BSF) on Tuesday revealed that Islamabad's Border Action Team (BAT), involved in the attack, comprises Mujahedeen terrorists as well.
BSF Additional Director General (ADG) Western Command K.N. Choubey briefed the media about the entire incident and how Pakistan's BAT took advantage of the simultaneous firing and mutilated bodies of two Indian soldiers.
"Army and BSF's joint team is deployed in Krishna Ghati sector for boundary protection. When the team was going for regular line maintenance, two FDL from Pakistan's side and two ambush which they had set up started firing simultaneously. Our jawans were engaged in this. In between this, the BAT action, which consists of regular army and Mujahideens and trained militants, took advantage and mutilated bodies of our two jawans," Choubey told the media.
"I would not like to comment formally on this. But yes, everybody knows that this has taken place immediately after the visit of the Pakistan Army Chief to the frontal area," he went on to say.
The BSF ADG Western Command further ensured that the army and BSF will be brainstorming together and come up with revised Standard Operating Procedure (SOP), in order to minimise such incidents.
"The SOPs are always followed. Every such incident that takes place, we learn from it. The BSF in Kashmir works under the operational control of the army. Together, there will be brainstorming and we will come out with yet more revised SOP so that such incidents are minimised," he said.
Earlier today, Union Home Minister Rajnath Singh chaired meeting with Jammu and Kashmir Governor N.N. Vohra and expressed his displeasure over the 'prolonged' unrest. Vohra ensured that he would work towards restoring peace in the Valley at the earliest.
Yesterday, Rajnath reviewed the present security situation in Jammu and Kashmir and the recent Sukma attack with country's top security officials.
Research and Analytical Wing (R&AW) chief Anil Dhasmana, Intelligence Bureau chief Rajiv Jain, Director General (DG) Central Reserve Police Force (CRPF) Rajeev Rai Bhatnagar and many other top officials participated in the intensive discussion chaired by Rajnath.
The high-level meet discussed strategy and security issues in Chhattisgarh after the Sukma attack.
Only yesterday, two defence personnel were killed, as Pakistan violated ceasefire by opening fire on Border Security Force (BSF) posts in Jammu and Kashmir's Krishna Ghati sector. In a barbaric act, their bodies were later mutilated by the Pakistan Army.
The Union Home Minister also directed the officials to tighten the government's grip over Jammu and Kashmir unrest.
Kashmir Valley has been embroiled in utter chaos and violence after Hizbul Mujahideen commander Burhan Wani's was killed by security forces in an encounter in south Kashmir's Kokernag on 8 July last year.
-ANI