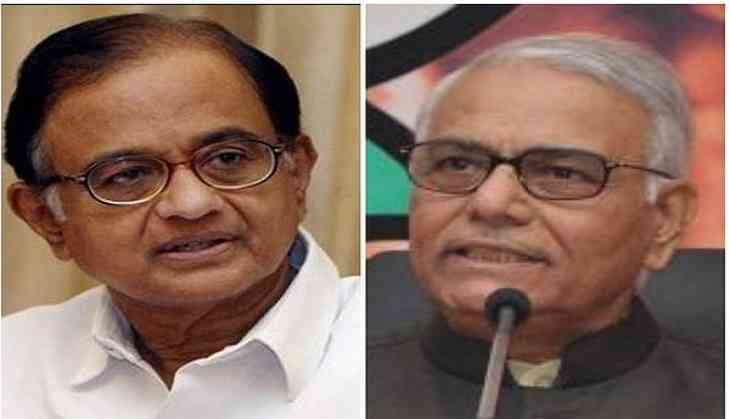 No matter what power does, ultimately truth will prevail, said senior Congress leader and former finance minister P.Chidambaram on Wednesday after senior Bharatiya Janata Party (BJP) leader Yashwant Sinha launched a scathing attack on the BJP-led Central Government's economic policy.
Sinha, a former finance minister, hogged the limelight and started trending high on social media this morning, after he criticised his own government for sinking economy, in an article he penned for The Indian Express.
Taking to Twitter, Chidambaram said, "Yashwant Sinha speaks Truth to Power. Will Power now admit the Truth that economy is sinking?"
"ETERNAL TRUTH: No matter what Power does, ultimately Truth will prevail," he added.
In the article, titled 'I need to speak up now', Sinha said that demonetisation proved to be an "unmitigated economic disaster" and that the Goods and Services Tax (GST) was a "badly conceived and poorly implemented" havoc.
He introduced the strongly-worded article, saying, "I shall be failing in my national duty if I did not speak up even now against the mess the finance minister has made of the economy."
Sinha further said that the economy is on a downward spiral and many in the BJP do not dare to speak up against it out of fear, adding, "Arun Jaitley is considered to be the best and the brightest in this government. It was a foregone conclusion before the 2014 elections that he would be the finance minister in the new government."
Sinha further took on BJP president Amit Shah for citing 'technical' reasons for slowdown in the GDP rate and wrote, "Even the SBI, the largest public sector bank of the country, has stated with unusual frankness that the slowdown is not transient or "technical", it is here to stay and the slowdown in demand has only aggravated the situation. It has openly contradicted what the BJP president said just a few days ago that the slowdown in the last quarter was on account of "technical" reasons and will be corrected soon."
On that note, the figures of the first quarter of fiscal 2017-18, released last month, showed the GDP growth rate falling at 5.7 percent, while in the concurrent period last year, the GDP was soaring ahead at 7.6 per cent.
In his article, Sinha also took a jibe at raids conducted by Income Tax department, Enforcement Directorate and Central Bureau of Investigation and said that it has become "a new game to instill fear in the minds of people," adding, "We protested against raid raj when we were in opposition. Today it has become the order of the day."
He also ridiculed the "massive" loan waivers given to the farmers "varying from one paise to a few rupees."
Sinha concluded his article by saying, "The prime minister claims that he has seen poverty from close quarters. His finance minister is working over-time to make sure that all Indians also see it from equally close quarters."
-ANI