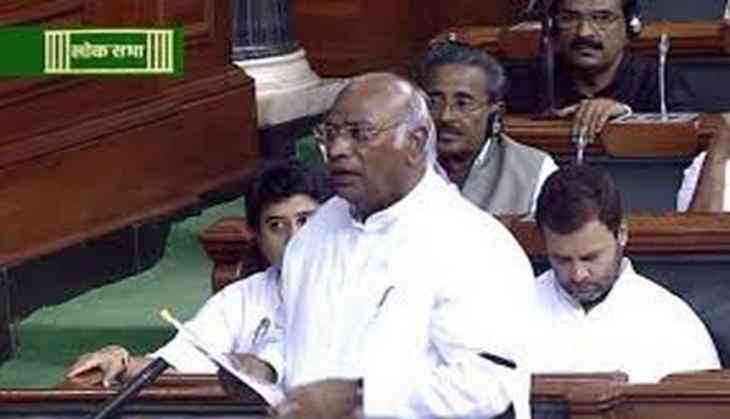 The Lok Sabha on 31 July witnessed a heated discussion over reported incidents of mob lynching across the country with Leader of Opposition Mallikarjun Kharge accusing the government of "indirectly encouraging groups like the Vishwa Hindu Parishad, Bajrang Dal as well as Gau Rakshaks."
He said that ever since the NDA government had come to power, incidents of lynching and mob violence have increased.
"There's a feeling of threat in many states, especially because of fringe groups. Incidents of lynching and mob violence are not under control. Taking matters into one's hands and exercising violence or killing another is unacceptable," Kharge said.
Listing out mob lynching incidents in Gujarat, Jharkhand, Uttar Pradesh, Kharge said, "Gujarat, Jharkhand, Uttar Pradesh - wherever BJP is in power, these mob violence and lynchings happen.It is a shame that this is happening in a democracy!"
A strong rebuttal came from the Bharatiya Janata Party MP, Nishkant Dubey, who said that many of the case mentioned by Kharge were pending in court under Indian Penal Code Section 352.
"The cases of violence Kharge is mentioning are already in the courts, so why is he saying all this? He cannot speak about these cases," Dubey said.
Citing the Ballabhgarh train lynching incident in which 16 year old Junaid Khan was fatally stabbed for allegedly carrying beef in a bag, Kharge blamed the government for failing to control such incidents.
"He came to Delhi to shop for Eid, but was lynched. No one questioned this and everyone is taking law into their hands. I request the government to list how many Gau Rakshaks they have arrested, and what lawful action they've taken. You have not taken any action, which is why there is such a rise in incidents. No action is being taken, and is instead being encouraged," Kharge said.
Countering Kharge, BJP Leader Hukmdev Narayan said that the Prime Minister had repeatedly condemned mob lynching and added that it was the states responsibility to keep a check on such incidents.
"When the prime minister himself has condemned the mob incidents repeatedly then it is upto the states to follow the law. The Centre can't send paramilitary on its own," he said.
Kharge also criticised Prime Minister Narendra Modi for not speaking about mob lynching in his 'Mann Ki Baat' radio programme on Sunday.
"An RSS worker is murdered in Kerala and the Governor calls the chief minister. There are mob lynchings happening here and nothing is being done!" he added.
The BJP MP further questioned the opposition as to why the lynching of Srinagar's DSP Ayub Pandith was not worth a mention. Citing 'unity in diversity', he urged all religions should co-exist together and refrain from linking lynching incidents to religion.
"Is the mob lynching of DSP Ayub Pandith in J&K not an incident worth mentioning?" he asked.
Narayan further countered Kharge on the Ballabhgarh train incident, saying, " The Junaid incident was a fight over a train seat, why are you linking it with religion? What about Kerala?" he asked.
Earlier, many army veterans, reportedly, wrote a letter to Prime Minister Modi condemning the attack on Muslims and Dalits.
-ANI