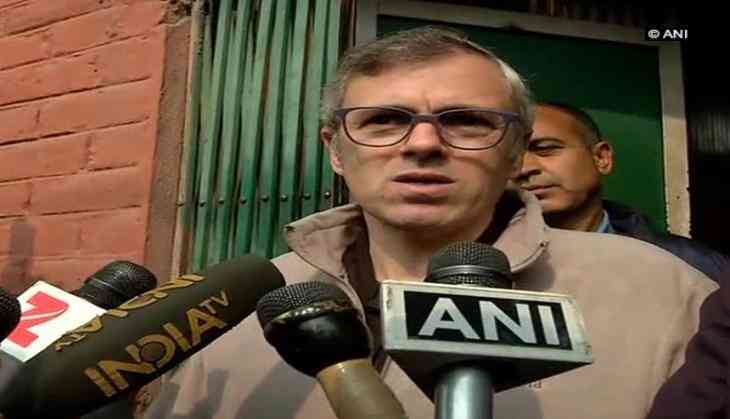 National Conference (NC) leader and former Chief Minister Omar Abdullah on Monday asked the BJP to reveal the name of its chief minister candidate for the upcoming state elections.
"Today I challenge BJP to clearly say who will be their chief ministerial candidate in the upcoming elections because the saffron party has cheated the people of Jammu twice. People of Jammu deserve to know whom the BJP will make CM if they give 25-26 MLAs to BJP," Abdullah said at a press conference.
Criticising the BJP for doing injustice to the people of the state, and postponing Assembly elections, Omar said, "I don't think the people of Jammu are ready to be deceived once again. That is why the BJP is escaping from elections."
NC leader also took a potshot at the former alliance between the People's Democratic Party (PDP) and the BJP, which fell apart on June 19. "North pole and south pole joined hands and promised to bring peace, progress, and development in the state. But by breaking the alliance, BJP not only deceived PDP chief Mehbooba Mufti but also broke her trust in PM Modi," Omar said.
Abdullah claimed the BJP doesn't want to conduct fresh elections in the state due to the prevalent atmosphere, as "they are aware of the fact that if elections are held, then they will lose power in Jammu and Kashmir." "When the saffron party failed to come back to power again with the majority of seats, they imposed Governor's rule in the state," he said.
He also condemned Governor Satya Pal Malik's decision to dissolve the Assembly as the three parties-PDP, NC, and Congress-claimed to forge an alliance to form the government in the state. "The Governor himself wrote in a letter that horse-trading is being done to form the government in the state and MLAs are being sold in the state. If he wrote so in the letter, then why doesn't he tell us who were doing the horse-trading here?"
"BJP General Secretary, Ram Madhav objected to the PDP-NC alliance, claiming that it was formed on instructions from across the border. But when I questioned him, he took a step back and failed to prove his allegation," Omar added.
Responding to the issue of Ram Mandir raised by BJP ahead of general elections, Omar said, "BJP has no major issue to discuss. They have even failed to build Ram Mandir in Ayodhya but suddenly they have realised that this is something that can be used to woo the voters in Lok Sabha elections.
-ANI