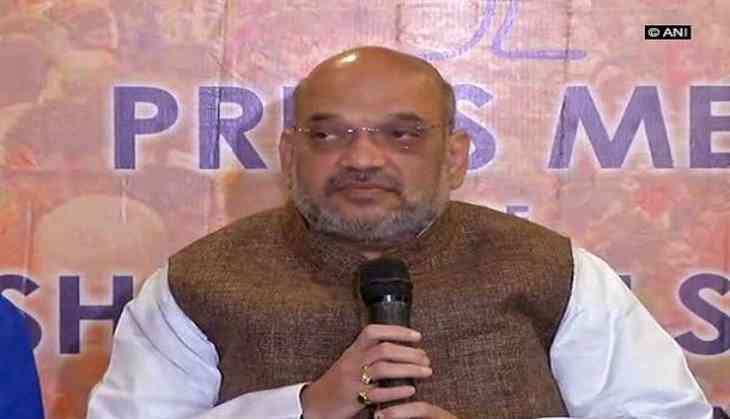 'Not waived off loans for any industrialist, Rahul is lying': Amit Shah (ANI)
The Bharatiya Janata Party (BJP) President Amit Shah on Sunday rebuffed Congress President Rahul Gandhi's allegations about Centre of waiving the loans of businessmen.
"Congress leaders keep making statements that the BJP government has waived industrial loans of thousand crores and lakh crores. I would like to make it very clear that after Modi government came, not even one businessman's one paisa of loan has been waived. Rahul Gandhi is not saying correctly," Shah said at an interactive public meet with the farmers of Karnataka, here.
Hitting back at Gandhi's statement, Shah also challenged Gandhi to furnish relevant record that can attest to his allegations, and added, "I am ready to answer, and apologise to the farmers of Karnataka."
The statement comes in the backdrop of the multiple bank frauds reported lately, including the Rs 11,400 Punjab National Bank (PNB) fraud that involved celebrity jeweller Nirav Modi whose whereabouts remains undisclosed.
Gandhi has held the Narendra Modi-led government responsible for the frauds, and for the inefficiency of the authorities to nab the culprits.
Shah further elaborated on the steps taken by the BJP government for the benefit of sugarcane farmers, ranging from the stopping of raw sugar imports to the imposition of 40 percent duty on raw sugar brought for industrial purpose.
The Centre also made it compulsory that at least 10 percent of ethanol -the byproduct of sugarcane- was mixed with petrol, and increased the price of ethanol from Rs 11 up to Rs 48, Shah informed.
"The sugarcane farmers are paid their dues within 90 days in Uttar Pradesh. A law has been framed for the same," Shah further said, and added, "Just like UP, sugar mills will have to clear dues of the sugarcane farmers within 90 days. This will be part of our election manifesto in Karnataka."
The BJP chief also assured the farmer that the defunct sugar mill in Bidar would be started again, once the BJP government comes in the state.
As the Karnataka assembly election comes nearer, the BJP and Congress have begun aggressive campaigning in the state.
Earlier in the day, Congress President Rahul Gandhi, who is on a three-day-visit in the state, addressed a public meet here
-- ANI