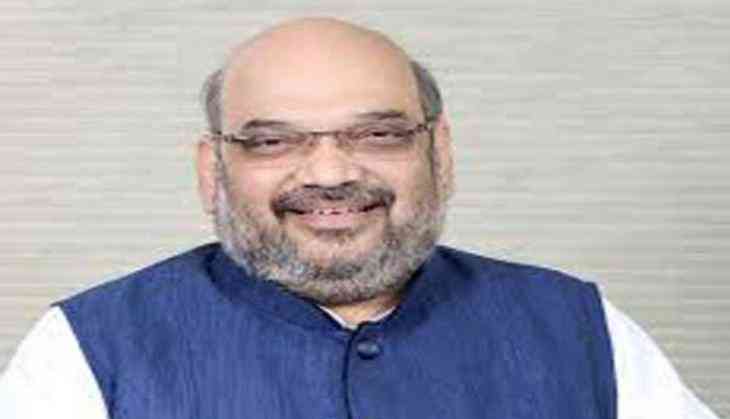 BJP president Amit Shah today said there was no question of him leaving the party post and he was working "happily" and "wholeheartedly".
Ending speculation that he would
resign as party president if elected to the Rajya Sabha, Shah also denied that the BJP had broken any party in Bihar.
"It was Nitish Kumar who resigned from the post of the chief minister as he did not want to continue with the corrupt. Are we supposed to force them to continue?"
Shah, who arrived here Saturday on a three-day visit, answered a range of questions, including on getting elected to the Rajya Sabha and subsequently resigning as party president.
"There is no question of doing so. I have the responsibility of being the party president. I am happy, and I am working wholeheartedly. You people (media) please do not push," Shah told reporters.
The BJP president exuded confidence that the party would come back to power with more strength in the next Lok Sabha election in 2019.
"BJP will romp home victorious with bigger strength than 2014 on the basis of its development and good governance of the Modi government, as well as the 13 state governments of the party in the country," he said.
Calling Prime Minister Narendra Modi the "undisputed most popular PM" of the country, Shah said the government had "succeeded in ending the politics of family, caste and appeasement in the country".
The previous Manmohan Singh-led government suffered from "policy paralysis", he said.
"Every minister assumed himself to be the PM, and no one considered him as the PM."
He reiterated that unlike previous governments, which had just a couple of things to show as their achievements during their tenures, the Modi government had undertaken 50 important works in its three years.
Claiming that there were scams worth Rs 12 lakh crore in the 10 years of the UPA government, Shah said there was not a single allegation of corruption during the three years of the Modi government. Even the opposition could not cast any aspersions on this issue.
Making a special mention of the surgical strikes across the LoC last year, Shah said they projected the country as one with firm resolve in the global area, which can take any decision for its security.
Referring to Congress' Gujarat MLAs being shifted to Bengaluru to allegedly ward off "poaching", he said, "It can be understood if they speak about Gujarat. But why are they (Congress MLAs) being kept in locked rooms in Bengaluru...you must understand that."
Asked about his party not being as strong in the south as it was in the north, he said this was earlier said about the BJP's presence in the north as well.
To a question on the NIA blaming cross-border trade for terrorism, Shah said that the BJP had no relevance as it concerned the security agencies, the Army and the Jammu and Kashmir government.
-PTI