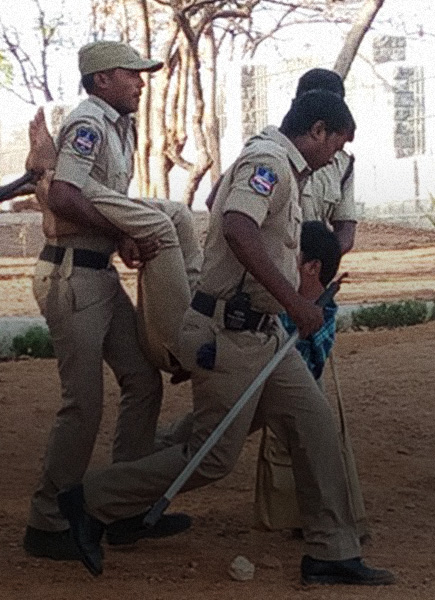 Students at Hyderabad University spent 48 hours without food, water and electricity, as the police roamed the campus and arrested 36 students and teachers, including student Unay Bhanu who was allegedly beaten up for cooking a meal for those without access to food. Bhanu is now in hospital with severe injuries.
Though facilities were restored on campus on Thursday, the students blame this 'emergency-like' situation on university vice chancellor Appa Rao Podile, who they claimed had provided the police with a list of students and professors to be arrested, says The Indian Express.
Appa Rao is seen by the students as the 'main accused' in the suicide of Dalit scholar Rohith Vemula in January. He was sent on leave after protests on campus and returned on Monday to resume his duties, whereupon he was allegedly gheraoed by students and his residence was vandalised.
In a statement, the Joint Action Committee of students set up to get justice for Rohit Vemula, alleged that Appa Rao had conspired with ABVP students, some of the faculty and the university non-teaching staff to resume his duties as the vice chancellor.
The students alleged the police, the Rapid Action Force (RAF), Central Reserve Police Force (CRPF) and other security personnel roamed the university campus and physically and sexually assaulted students and teachers.
"Women students were beaten and grabbed by male police officers. After the forcible eviction from the lodge compound, police chased us for another 2 km, and grabbed and arrested students. Students suffered grievous injuries and were taken to hospitals," said the statement.
As students attempted to record the brutality on their smartphones, the police snatched their phones and confiscated them, said the JAC.
"Electricity and mess services were restored this morning, there's heavy presence of police on campus and they're filing false cases against students," said student Tushar Gadaghe.
Another student, Vaikhari Aryat, posted on Facebook: "We do not know if this is going to be stable. when we tried asking them (mess workers) why they left us in a crisis yesterday, they did not answer and refused to meet our eyes."
University registrar M Sudhakar claims the mess workers struck work to express their support for Appa Rao.
The students and faculty members were arrested for vandalising the VC's residence, and for throwing stones at police personnel. They were sent to judicial remand and are lodged in Cherlapally Central Prison. There has been no word on one student, Dontha Prashanth, who was allegedly beaten up in a police van along with the others detained.
In a statement issued on Thursday, the police said the situation on campus was peaceful.