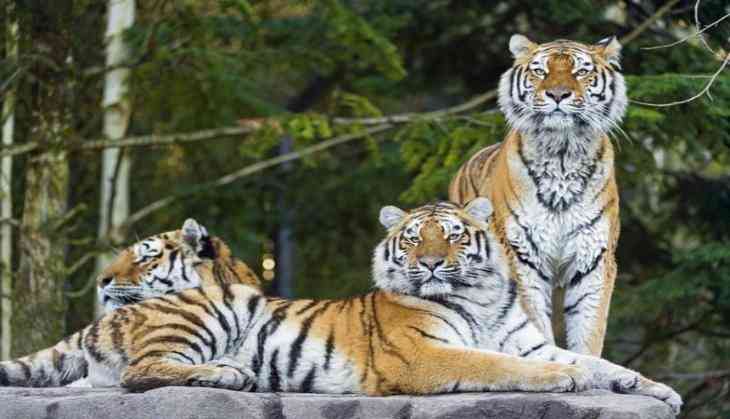 Nepal, India to conduct first joint tiger count
For the first time, Nepal and India will undertake a joint tiger census next month in their national parks, forests and protected areas adjoining the two countries using a globally-recognised method, officials said today.
Conservation authorities and experts would install cameras in various locations in tiger habitats as well as in buffer zones to capture and track the movements of the big cat, a senior official said.
The counting of tigers will begin from the second week of November, Director General of the Department of National Parks and Wildlife Conservation Man Bahadur Khadka said.
According to Khadka, this is the first time that both the countries are counting tiger heads using the same method that is recognised globally.
During a meeting recently, Nepalese and Indian conservation officials had decided to use the camera tapping procedure for the joint.
"By using this method we can avoid chances of repeated counting of the same tiger," Khadka said.
The Chitwan National Park in Chitwan and Parsa Wildlife Reserve of Nepal are adjacent to the Balmiki Tiger Reserve in Bihar. Likewise, Nepal's Bardiya National Park adjoins India's Katarniaghat Wildlife Sanctuary while the Shuklaphant National Park in Nepal adjoins India's Dudhwa Tiger Reserve.
Tiger is an endangered animal listed in the Convention on International Trade in Endangered Species (CITES).
The last tiger count conducted by Nepal in 2013 puts the number of adult tigers around 200 in the Himalayan country.
Recent figures showed that since 2010, the estimated number of tigers across 13 tiger range countries including India and Nepal stood at 3,900.
Tiger range countries (TRCs) are those where the big cat roams freely.
At the International Tiger Conference in Russia in 2010, participating countries including Nepal had made a commitment to double the tiger population by 2022.
This means Nepal would have at least 250 tigers, 100 per cent increase from its 2010 tiger count which had put the number of the big cat at 125.
The 13 tiger range countries include Bangladesh, Bhutan, Cambodia, China, India, Indonesia, Lao PDR, Malaysia, Myanmar, Nepal, Russia, Thailand, and Vietnam.
According to the World Wildlife Fund (WWF), tigers have lost 93 per cent of their historical range. Human and wildlife conflict, climate change and poaching and illegal wildlife trade are among the major reasons that has pushed the feline into the endangered category -- facing risk of extinction in the wild -- over the years, the WWF said.
-PTI