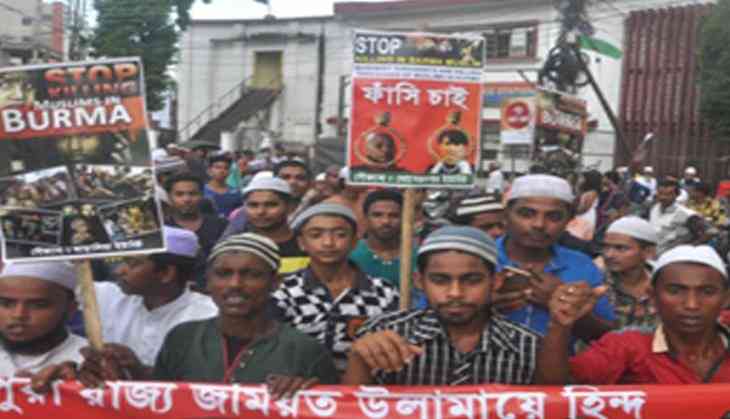 Muslims hold rally in Agartala (ANI)
Hundreds of Muslims from different parts of Tripura under the banner of Tripura State Jamiat Ulema Hind held a massive protest yesterday against the atrocities on Rohingya Muslims by the Myanmar state authorities.
The protest march against the genocide and atrocities on the Rohingya Muslims raised slogans against Myanmar leader Aung San Suu Kyi and gave slogans such as "Stop the genocide" and "UNO, break your silence".
"We pray that this type of atrocity doesn't take place in any other country of the world as it is happening against the Rohingas and we hope that the justice take place at the United Nations Human Rights Commission," said a protestor.
" Rohingyas should get nationality and all those who have taken refuge in various nations should return peacefully to the nation. India and Bangladesh should also do this and till the Rohingas are living as refugees food and shelter should be arranged for them," said another protestor.
The leaders of Tripura State Jamiat Ulema Hind accused the Burmese government of treating Rohingya Muslims so cruelly that has never been witnessed across the world.
The Muslim leaders also accused that women and small children are being thrashed and burnt alive, mass rape and the whole world is keeping mum over it.
The protesters also raised slogans against Nobel Peace Prize winner Aung San Suu Kyi, the State Counselor and Leader of the National League for Democracy of Myanmar.
-ANI