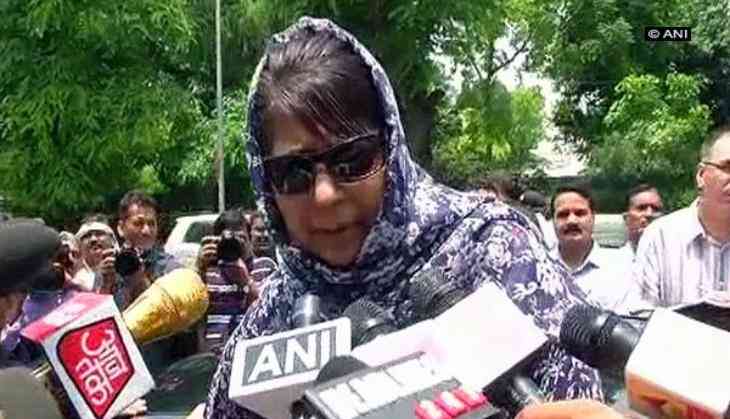 Jammu and Kashmir Chief Minister Mehbooba Mufti on 15 July expressed her gratitude to Union Home Minister Rajnath Singh and to the people of the nation for extending their support at the time of crisis in the Valley.
"I am thankful to all for standing by our side at the time of such crisis. The Home Minister and the entire country supported throughout. Until all the political parties and nation come together, we cannot win this fight. It is not a law and order fight in Kashmir, but external forces are included in this war, whose intention is to disturb the peace of the state," Mehbooba said.
"The entire state stood united, for which I would like to thank the people of the state and everybody else," she added.
Commenting on the implementation of the Goods and Services Tax (GST) along with considering Article 370, Mehbooba said when the Bill was passed, President Pranab Mukherjee reaffirmed that special care be taken of Article 370.
"Article 370 is connected with the emotions and feelings of the people of Kashmir," she said.
Earlier on 15 July , Mehbooba met Rajnath to discuss the chaos going on in the Valley.
Kashmir has been witnessing a state of tension and violence.
On 10 July , terrorists opened fire on a bus, carrying over 30 pilgrims on their way to the Amarnath cave shrine, in Anantnag district.
The incident occurred between Baltal and Mir Bazar.
Reportedly, the bus was neither a part of a convoy nor registered with the shrine board.
On 12 July, three Hizbul Mujahideen terrorists were killed by security forces near Budgam district in Jammu and Kashmir.
-ANI