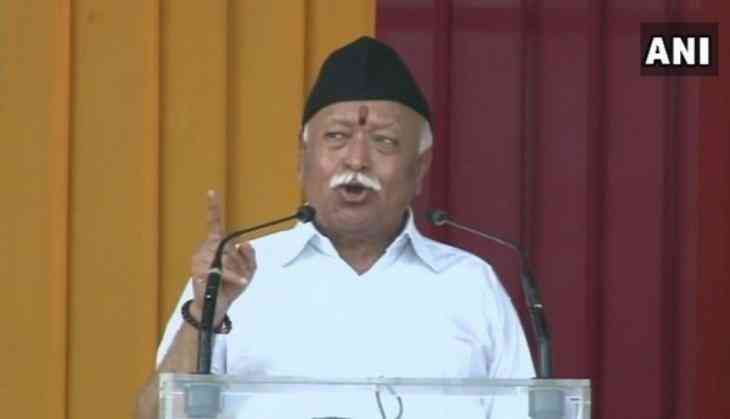 Rashtriya Swayamsevak Sangh (RSS) Chief Mohan Bhagwat on 30 September condemned the linkage of Gau Raksha with violence, stating that the cow-protection issue "goes beyond religion" and attacking people in its name is not acceptable.
While addressing the crowd at his annual Vijaya Dashami speech at the group's headquarters in Nagpur, Bhagwat said, "Cows are used more for its urine and dung than milk in our country. For a small farmer to progress, rearing of the cow is a must. Protecting cow and cow-based agriculture is directed by the constitution. Rearing of the cow is not a matter of religion. I know many Muslims involved in rearing and protection of cows. Many Muslims have sacrificed their life for Gau Raksha."
"It is reprehensible that some people have been killed allegedly by Gau Rakshaks. In fact, violence of any form is reprehensible. At the same time, many people have been killed by cow smugglers. We must look at the issue of cow protection beyond religion," says Bhagwat.
In his speech, Bhagwat also accused the governments of West Bengal and Kerala of indulging in petty politics by lending a helping hand to the anti-national forces.
In view of the ongoing violence in Rajasthan over Alwar lynching case, several civil society organisations reacted strongly to the clean chit to the accused in this case, demanding closure of cow smuggling cases against deceased Pehlu Khan's family and others.
55-year-old Pehlu from Nuh in Haryana was grievously assaulted by self-styled cow vigilantes near Behror in Rajasthan on the Delhi-Alwar highway on April 1, for being a cattle smuggler. He succumbed to his injuries at a private hospital on April 3.
Earlier, the Rashtriya Mahila Gauraksha Dal national president, Sadhvi Kamal, had praised one of the cow vigilantes accused in the Alwar lynching case and referred to him as "today's Bhagat Singh.
-ANI