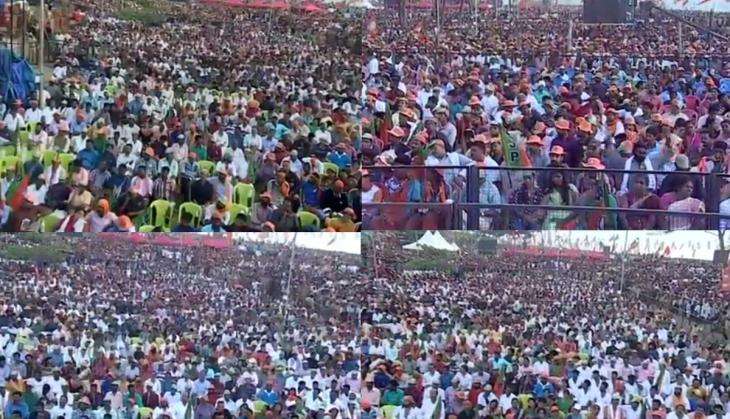 Prime Minister Narendra Modi lashed out at Pakistan while addressing a public meeting at Kazhikode in Kerala on 24 September. He said that Pakistan is the only country in Asia which is associated with terrorism. This was his first public address since the deadly terror attack in Uri where 18 Indian soldiers lost their lives.
He said, "Whenever news about terrorism comes, there is always another news that either the terrorist came from there (Pakistan) or like Osama went there after the act."
Prime Minister Narendra Modi began his address refering to Kerala as a state that has "an impression of purity and holiness."
He said, "When you think of Kerala, you think of God's Own Country, it has an impression of purity and holiness."
Most part of his address remained around the recent developments that took place after the unrest in Kashmir that began with the death of Burhan Wani.
While addressing his audience, PM Modi called upon the people of Pakistan and said, "I call upon people of Pakistan to come forward, fight a war on who defeats unemployment, poverty, illiteracy first. Lets see who wins."
He also reminded the people of Pakistan that once even they were part of India and said, "Want to remind them before 1947 they were part of this soil".
Towards the end of his speech, PM Modi warned Pakistan and said that Pakistan want to occupy Kashmir though it has failed badly in taking care of Gilgit and Balochistan.
He said,"Pakistan should stop aiming for Kashmir, it should first look at the land they have already captured ie PoK, Gilgit and Balochistan."
In his address, PM Modi also that the BJP led NDA government was devoted to the poor and draws inspiration from the thoughts of Mahatma Gandhi,Ram Manohar Lohia, Deendayal Upadhyaya.
He said, "Thinkers like Mahatma Gandhi, Ram Manohar Lohia, Deendayal Upadhyaya have helped shape our country's politics in the last century. This government is devoted to the poor. This commitment draws inspirations from the thoughts of Gandhi ji & Deen Dayal."