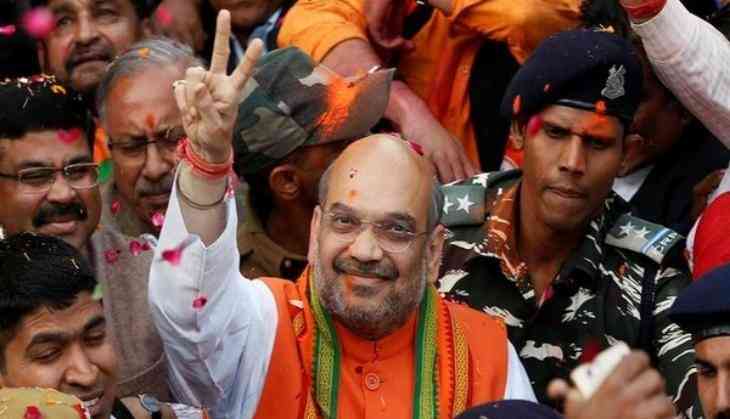 Bharatiya Janata Party (BJP) President Amit Shah on Friday said that the Prime Minister Modi led government is a transparent and decisive government.
Addressing a press conference here to mark the first day of the M.O.D.I. (Making of Developed India) fest to celebrate the three years of Narendra Modi government, the BJP President outlined the various steps taken by the BJP led National Democratic Alliance (NDA).
He said at the time of forming the government, Prime Minister Narendra Modi had said that the new government would be transparent, decisive, pro poor, dalit, youth and women.
"After three years, the Modi government has fulfilled all those promises, said Shah, adding that "the BJP led Union Government has marginalized family politics, politics of appeasement and casteism in the country".
He said that the demonetisation was a bold step and thereafter the action against shell companies has eradicated the black money.
Citing the example of strong and decisive government, the BJP President said the Modi government's political will was behind the Indian Army's surgical strike against Pakistan.
He said around 40 lakh retired defence personnel had been demanding One Rank One Pension (OROP) since long but it was Modi government that implemented OROP and earmarked Rs 8000 crore in this regard.
The BJP leader said the Modi government had given the due respect to the backward classes by giving the Constitutional status to the Other Backward Classes (OBC) Commission.
"Country's every family has been linked with economy by opening 28.52 crore bank accounts under Pradhan Mantri Jan Dhan Yojna," said Shah.
He said the India has become a global leader in the field of space by launching 108 satellites in a single day.
Terming the Modi government as a women friendly government, Shah pointed out that the Modi government has taken various steps for the welfare of women.
'For example, the Modi government extended maternity leave from 12 weeks to 26 weeks," Amit Shah said.
-ANI