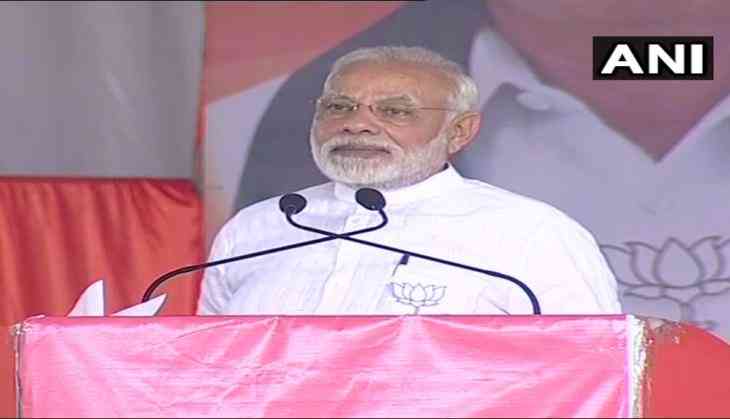 Claiming that the Congress and the JD(S) have entered into a "secret" pact for the Karnataka Assembly polls, Prime Minister Narendra Modi said today H D Deve Gowda's party was "protecting" the Congress.
Addressing an election rally here, Modi alleged that the Congress, for years, spoke about poverty eradication only to garner votes, while neglecting farmers and the poor.
"Poll surveys, political pundits...everyone is saying the JD(S) cannot defeat Congress. They cannot form government. If anyone can change the government in Karnataka, it is the BJP.
"If anyone is protecting the Congress, it is the JD(S)... Congress and JD(S) have a secret understanding...an understanding behind the curtains," Modi, who lavished praise on JD(S) patriarch and former prime minister H D Deve Gowda only a few days ago before training his guns on him, said.
The Congress, Modi demanded, make it clear if it had a secret understanding with JD(S) or not. He said it was with the support of Deve Gowda's party that the Congress had its mayor in Bengaluru.
"Why are you hiding this? Congress should have the courage to speak out the truth to people."
Modi, however, insisted he still has respect for Deve Gowda, who had announced before the 2014 Lok Sabha polls that he would commit suicide if he became the prime minister.
The prime minister said despite Deve Gowda opposing him, when he came to Karnataka for campaigning during the Lok Sabha elections, he said the JD(S) leader should live for 100 years and serve the society.
Modi had showered praise on Deve Gowda at a rally in Udupi last Tuesday and castigated Congress president Rahul Gandhi for "insulting" the former prime minister.
But two days later at a rally in Bengaluru, Modi asked people not to "waste" their votes by backing Deve Gowda's party as it was going to finish "a poor, distant third" in the elections.
Modi said the Congress, which ruled the country for decades, with "one family" in power for most part, neglected the poor and farmers.
"Garibi, garibi, garibi (poverty, poverty, poverty) was their constant rant. But once the son of a poor mother became the prime minister, they clammed shut...now they don't talk about poverty," he said.
He alleged the Congress was responsible for the backwardness of Tumakuru.
The farmers, he said, were suffering because of the policies of successive Congress governments at the Centre and in the state.
"Congress needs to be punished for ensuring Karnataka has a better future," Modi said.
(PTI)