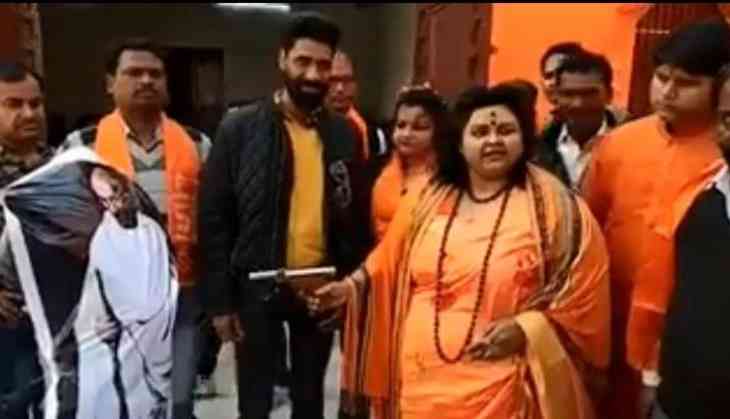 The right wing leader and Hindu Mahasabha National Secretary, Pooja Shakun Pandey who shot at Mahatma Gandhi's effigy on his 71st death anniversary, was arrested on Tuesday from Tappal in Uttar Pradesh's Alighar. Pandey was missing since the day of the incident, her three group members arrested last week. The Police has also taken her husband Ashok Pandey into custody.
The Uttar Pradesh police have registered criminal cases against 12 people in connection with the shocking recreation of Gandhi's assassination by the right-wing group. A video of Pooja Pandey went viral on social media of shooting Gandhi's effigy with air pistol and garlanding his assassin Nathuram Godse.
In the video, it can be seen, after Pandey shoots at the effigy, 'blood' came out of it. According to IndianExpress, Pandey also distributed sweets among her supporters and fellow Mahasabha members. Pooja Shakun Pandey, wearing saffron attire shot at an effigy of Gandhi with an air pistol and garlands his assassin Nathuram Godse.
Chalana nahi. Abhi to photo session ho raha hai pic.twitter.com/jqKBxBZuZ5

— Ashish (@AshishXL) January 30, 2019
Pandey celebrated Mahatma Gandhi's death anniversary as 'Shaurya Divas' as Nathuram Godse assassinated him. The Hindu Mahasabha celebrated January 30 as 'Shaurya Divas' in the memory of right-wing leader Nathuram Godse, who had assassinated Mahatma Gandhi on this very day in 1948.
Also read: Supreme Court raps Modi govt over delay in NRC as protest continue in Northeast over Citizenship Bill