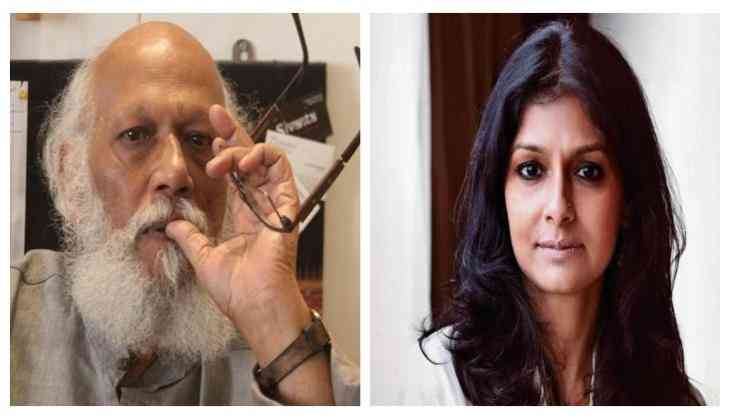 After Tanushree Dutta allegations on Bollywood actor Nana Patekar of assaulting her, the #MeToo campaign has been spread all across the country like the fire in the jungle. Every day, a new face has come to light who has done something wrong in the past. Some stories were so horrible that has left everyone in shock that how a predator took the advantage of the moment.
Meanwhile, this #MeToo campaign is not limited only to the Bollywood industry but also has transferred to other industry like Political, literature and the art industry also. Now, the new face in this storm is the famous painter Jatin Das, the father of actor, director and writer Nandita Das.
A woman claimed that Jatin Das has harassed her. She wrote the full story that what had happened to her on Twitter, where #MeToo campaign is giving the platform to everyone to share their harassment story.
The woman named Nisha Bora wrote that she had met Jatin Das through her family during a dinner event in Delhi. She wrote that she met Jatin through her father-in-law in 2004 at the India International Centre, Delhi.
In her post, she wrote that Jatin asked her to assist him for a few days to organise his work material as she was his huge fan, therefore, she agreed to do it.
She added that nothing happened when she first met him at his home in Delhi but when she met him in his studio he took the chance and tried to grope her and forcefull kiss her on the lips.
Nisha wrote that she visited his studio which was in Khidki village. She also wrote that Jatin Das had offered her a whiskey which she had refused. The other thing that she knew was that Das had attempted to grab her. She said that '. I wriggled out of his embrace, flustered. Then he did it again. This time, he managed a clumsy kiss on my lips. I recall the feeling of his beard on my skin. I pushed him away, and moved away from him.'
In her post, she also revealed that after that incident, his daughter also called her and said that she had received her number from her father to help her find a young female assistant like her.
Read her post:
#MeToo One of India's most feted artists alive. Padma Bhushan recipient. My molestor. Long post alert. @IndiaMeToo and so MANY other women, starting with @Rxyxsx Thank you for so much. pic.twitter.com/a6VFC6iHys

— Nisha Bora (@NishaBora) October 16, 2018
From MJ Akbar to Bollywood's Alok Nath, Sajid Khan, Kailash Kher and many other biggies names have come under this #MeToo campaign.
Watch Video:
Also read: #MeToo: After Sajid Khan stepped down from Housefull 4, this filmmaker to take on the charge of the director