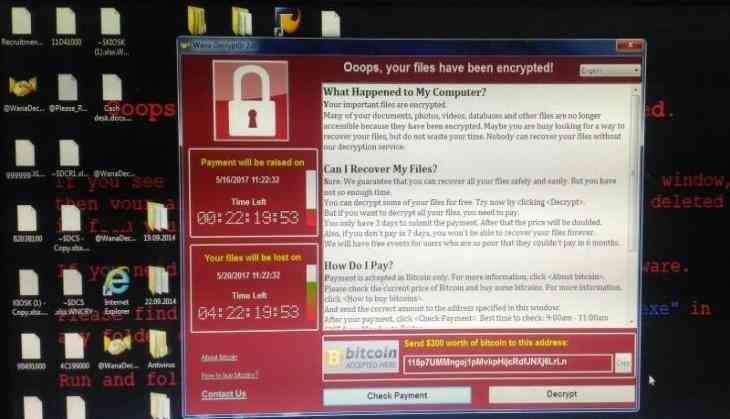 With the world taken by storm by a malicious software that has locked people out of their computers, 'WannaCry' is without doubt the biggest ransomware attack the world has ever seen and is also being reported in some parts of India.
Several computers at West Bengals power distribution company offices were attacked by the ransomware 'WannaCry' that was reported to have affected millions of computers worldwide last Friday.
Officials from West Bengal State Electricity Distribution Company (WBSEDCL) confirmed the development and said it has been detected at four offices in West Midnapore district affecting PCs in four blocks of Belda, Datan, Narayngarh and Keshiyari.
After striking West Bengal Electricity utility, WannaCry ransomware has also struck Kerala's Wayanad Panchayat office.
Four computers in a Panchayat office in Wayanad have been suspected to attacked by the virus.
The authorities claim that the files could not open and there is a message demanding 300 dollars be put in the account within three days.
India's cyber security agency has alerted Internet users against damaging activities of 'WannaCry'- that critically infects work stations and locks them remotely.
The ransomware, which locks crucial files and data unless the user pays a ransom of $300 Bitcoin, has affected thousands of computers across the world, including India.
In India, the issue is made worse because many computers might still be on Windows XP, for which Microsoft had not issued security updates for sometime. However, in light of the attack, Microsoft issued a security patch to Windows XP as well, in order to fix the security vulnerability related to the cyber-attack.
Meanwhile in Gujarat, the state government is now upgrading its computer systems with anti-virus software, and updating the Microsoft OS as well.
-ANI