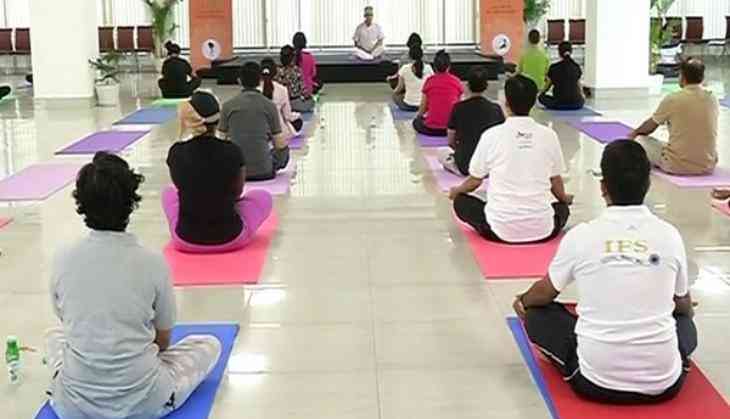 MEA, AYUSH Ministry hold Yoga session for diplomats
In a first, the Ministry of External Affairs (MEA) and the AYUSH (Ayurveda, Yoga and Naturopathy, Unani, Siddha and Homoeopathy) Ministry on Sunday launched a joint initiative to provide for a Yoga session for diplomats at the Pravasi Bharatiya Kendra here.
Diplomats from several countries took part in the event, and will later participate in the International Yoga Day celebrations on June 21.
Union Minister of External Affairs Sushma Swaraj will also be a part of the Yoga session beginning at 11 a.m. at the Pravasi Bharatiya Kendra on Wednesday.
MEA spokesperson Gopal Baglay, who attended the session, underlined the importance of Yoga in the day-to-day life.
"The objective is not only to introduce the diplomatic core and create awakening about Yoga, but also to stress and underline that Yoga is not merely for health, but is essentially a message for peace, harmony and well-being of the entire world," he told ANI.
U.S. diplomat Tallon Sessions, who was also in attendance of the event, said that performing Yoga brings him peace and helps him throughout the day.
"Yoga is very new for us. It brings peace and helps me throughout the day. We are from the United States and we are familiar with Yoga, and as we got to know that India is celebrating it, we were happy we could be a part of it," Sessions told ANI.
Yoga teacher Avinash Ghasi from the Art of Living (AoL) entailed the dynamics that go into organising such a large-scale event.
"Yoga is like being in that economic state of mind. Here in the sessions, we are using Asanas and Pranayams to arrive at that state of economity within. Here we see a lot of people from different countries. People are very enthusiastic to celebrate the International Yoga Day. The teachers over here take three to four sessions a day," he said.
The International Yoga Day will commemorate its third anniversary ever since its inception on June 21, 2015.
Prime Minister Modi-led National Democratic Alliance (NDA) Government has made grand plans for the day.
The Ministry of Ayurveda, Yoga and Naturopathy, Unani, Siddha and Homoeopathy (AYUSH) has been working tirelessly to make the International Yoga Day functions across the country and the world a grand success.
Union Government's 74 ministers will take part in the Yoga Day functions in 74 cities on June 21.
Prime Minister Modi will take part in the Yoga Day function in Uttar Pradesh's capital Lucknow, where AYUSH Minister Shripad Naik would also be present.
Bharatiya Janata Party (BJP) president Amit Shah will perform Yoga in Ahmedabad. Home Minister Rajnath Singh will attend the Yoga Day function in Himachal Pradesh's Sujanpur Tihra. Information and Broadcasting Minister M. Venkaiah Naidu will be present in Delhi.
Union Ministers Ravi Shankar Prasad, Nitin Gadkari, J.P. Nadda, Smriti Irani, Dharmendra Pradhan and Piyush Goyal will take part in International Yoga Day functions at Patna, Nagpur, Chandigarh, Kochi, Bhubaneswar, Visakhapatnam respectively.
AYUSH Ministry is working day and night to make the International Yoga Day a big success not only at national level but also at international level. It has written letters to different Ambassadors and Embassies and urged to make the event successful.
Prime Minister Narendra Modi in his UN address had suggested the date of June 21, as it is the longest day of the year in the Northern Hemisphere and shares special significance in many parts of the world.
-ANI