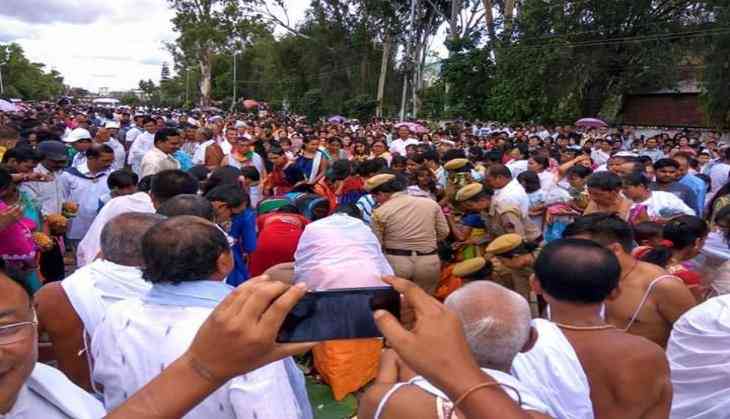 Manipur's traditional Mera Houchongba festival which endeavors to promote brotherhood and unity among indigenous communities, was celebrated at the Manipur Royal palace (Sana Konung) in Imphal in the presence of titular monarch Leishemba Sanajaoba recently.
The royal palace, which usually is deserted, was filled with a riot of colours as hundreds of people, both from the hills and the valley, took part in the festivities attired in their traditional colourful dresses.
Organised by the Mera Hou Chongba Thoushil Lup, the event saw an exchange of gifts such as traditional fabrics, vegetables and fruits among the hill and valley people settled in the state, besides a performance of cultural dances.
Village chiefs hailing from various tribal communities such as the Mao, Maram, Maring, Tangkhul, Kabui, Zeme, Liangmei, Tarao, Chiru, Kom, Kharam, Haokip, Gangte and Paite and royal palace officials sat on the dais for the duration of the festival.
Mera Houchongba has been celebrated for a long time to project solidarity among different ethnic groups in the Manipur and to give more strength to the process of "consolidation of the idea of Manipuri nationalism."
It is a historical fact that the population of Manipur is founded on the principle of pluralism. It can be stated that from ancient times "some kind of autonomy is enjoyed by every ethnic people in their own way; it is also accepted that the king of Manipur is the central authority."
Inhabitants of the hill regions of the state display feats of strength before the king.They also indulge in war dances and sham fights. The day concludes with a feast that includes a vegetarian and non-vegetarian spread.
The festival has been observed since the first century C.E. Before 1891, it was observed in Lampak, which is located to the West of Kanglasa and south west of Nungoibi.
The festival is observed and celebrated in the month of Mera, which falls in September or October.
-ANI