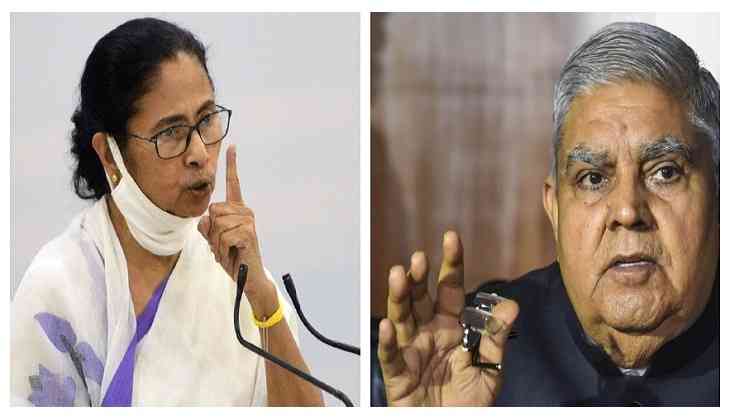 West Bengal has been battling double whammy—COVID-19 onslaught and the damage done by cyclone 'Amphan'. Recent developments, though extremely hard on the people of West Bengal, have seen a thawing of relations between Chief Minister Mamata Banerjee and Governor Jagdeep Dhankhar. "Mamata Banerjee seems to trust me more, not doubting my intentions so often, but there is a lot more to be done to develop more trust," says Governor Jagdeep Dhankhar.
Lakshman Rekha sacrosanct
Responding to a question on strained relations between Mamata Banerjee administration and Raj Bhavan he said: I have never crossed my constitutional Lakshman Rekha and will never shy away from nudging the government to take appropriate action for the larger interest of the people of the State.
Governor Jagdeep Dhankhar was responding to the questions asked by catchnews.com, and patrika.com during FB Live interactive session on Tuesday.
Zero tolerance for 'vote-rigging'
Governor claims that some vested interests are making efforts to rig the 2021 West Bengal Legislative Assembly election. "There is no point in my holding this position if the people of the state can't cast their vote without any fear. I won't allow 'silent rigging' and 'scientific rigging' in the election," says Governor Jagdeep Dhankhar.
No to corruption
Governor claims that despite offending certain people, he keeps raising the issue of corruption with the concerned authorities. "Many issues, corruption-related matters, and scams are brought to my notice by various people because they hope to find some solution through me. I ensure that corrupt people are made accountable, no matter what position they hold in government or society," says Jagdeep Dhankhar.
"This sometimes doesn't go down well with politicians and government officials, but the demon of corruption harms the people of West Bengal, and all my actions are directed towards the betterment of the people of the state," he adds.
No to Modi government schemes. Why?
Jagdeep Dhankhar believes that the benefits of all the central government schemes run by the PM Narendra Modi government should be availed by the people of West Bengal too, but due to political compulsions, the state government has ignored those schemes. "My role is to engage with state leaders and make them realize the benefits such schemes extend to the people," says the governor.
Jagdeep Dhankhar claims that "I have nothing to do with politics and my job profile has been explained in the constitution of India". But his opponents argue that the 'overzealous approach' of the governor tries to influence, and sometimes interfere with the mandate of the elected representatives.
Going forward, the balancing act of the governor is going to be tough. Politicians are soon going to get into election mode and Chief Minister Mamata Banerjee, ' one of the best street-fighters' as he calls her, is not known to give in so easily when it matters the most.
Read More: Mamata Banerjee has failed on all fronts, West Bengal ready for BJP govt: BJP Babul Supriyo