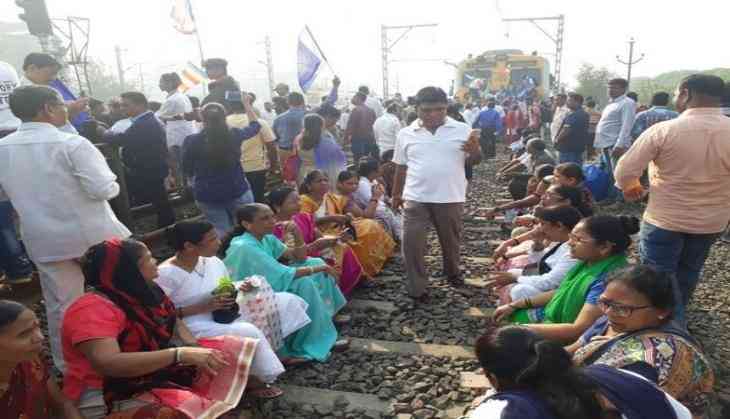 All train lines which were blocked by the protesters, have been evacuated and operations have resumed, informed the Western Railways.
"Both up & down lines, which were blocked by the protestors from 12.05 hrs have been evacuated at 12.24 hrs and train operations have resumed. Trains are delayed due to it. @drmbct @rpfwrbct," Western Railways tweeted.
Meanwhile, the remaining suburban services of AC local have been cancelled today, in view of safety.
"Remaining services of AC local suspended for the day in view of protests. Other suburban services are being run amid intermittent protests at Elphinstone Rd, Goregaon, Dadar, Malad. There is no cancellation of long distance trains," it added.
Agitated dalit protestors hit the street in several districts of the state, creating much tension in the area. Large numbers of protesters occupied the railway tracks at Nallasopara Station, disrupting the normal rail traffic.
Apart from this, commuters have been left stranded due to lack of mode of transport in the state today. Scores of people were witnessed waiting near Thane's Vartak Nagar.
Earlier in the day, Section 144 was imposed in Thane area till midnight of January 4. The protestors had even halted the trains at Thane railway station pertaining to the same.
Violence spilled over to adjoining parts of Maharashtra after clashes broke out between the Dalits and alleged right-wing groups on January 1, during the bicentenary celebration of the Bhima-Koregaon battle near Pune.
In the battle, which was fought between the British East India Company, containing Dalits in its infantry, and the Peshwas, who were upper-caste Brahmins, at Koregaon Bhima on January 1, 1818, the Marathas ultimately withdrew. Since then, the lower-caste communities have been viewing it as a symbolic victory for themselves.
-ANI