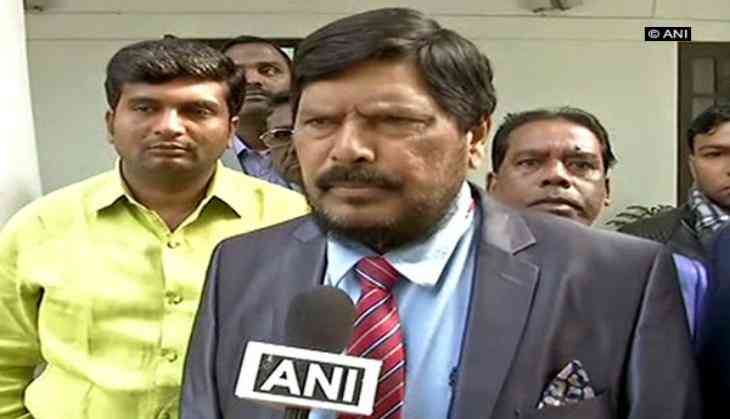 Minister of State (MoS) for Social Justice Ramdas Athawale on 3 January appealed people of Maharashtra to maintain peace and law and order in the state.
"I would appeal to the people not to destroy government properties and have a peaceful shutdown. If strike has been announced people should corporate. Maharashtra government is trying to create peace and maintain law and order in the state," Athawale told ANI.
Responding to the complaint lodged against Jignesh Mevani for making provocative statements, Athawale said, "Police must have acted if Jignesh Mevani's speech was instigating. But he has no relation with this incident.
A separate complaint has been filed against Gujarat MLA Jignesh Mevani and Jawaharlal Nehru University student Umar Khalid in Pune for allegedly making controversial statements during an event in the city on December 31
Meanwhile, Angry dalit protestors hit the street in several districts of the state, creating much tension in the area. They even halted buses, auto-rickshaws at Lal Bahadur Shastri Road in Thane.
Large numbers of protesters occupied the railway tracks at Nallasopara Station, disrupting the normal rail traffic.
The Western Railways authority has confirmed that the administration and security forces are making all efforts to normalise the train operations in the state.
Apart from this, commuters have been left stranded due to lack of mode of transport in the state today. Scores of people were witnessed waiting near Thane's Vartak Nagar.
The bus service towards Pune's Baramati and Satara and inter-state bus services from Karnataka-Maharashtra have been temporarily suspended till further order as a precautionary measure.
To prevent further damage the administration has also suspended internet services in Aurangabad.
Violence spilled over to adjoining parts of Maharashtra after clashes broke out between the Dalits and alleged right-wing groups on January 1, during the bicentenary celebration of the Bhima-Koregaon battle near Pune.
The right-wing groups were objecting to the observance of 'Victory Day' since they considered it to be an anti-national celebration.
Both RSS and BJP are being accused of instigating the violence by opposition leaders.
In the battle, which was fought between the British East India Company, containing Dalits in its infantry, and the Peshwas, who were upper-caste Brahmins, at Koregaon Bhima on January 1, 1818, the Marathas ultimately withdrew. Since then, the lower-caste communities have been viewing it as a symbolic victory for themselves.
-ANI