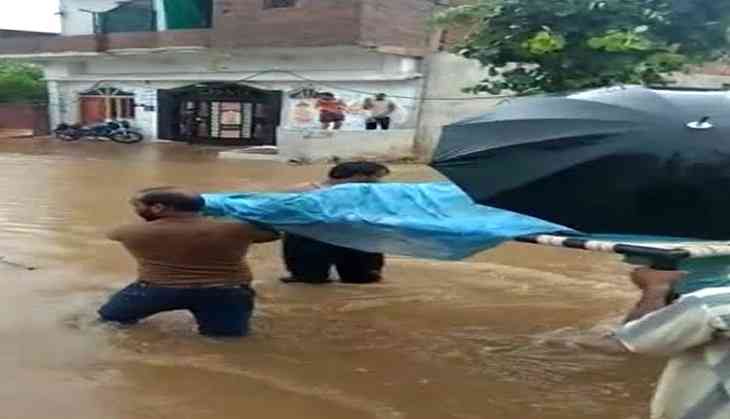 In yet another case of lack of medical facilities, a pregnant woman was carried on a cot by her family members to a hospital through Tikamgarh's flooded streets.
The family members took the decision as the ambulance service number 108 failed to respond on time.
The woman was undergoing severe labour pain, after which her family members dialled the helpline number and urged hospital authorities to send an ambulance immediately.
However, the ambulance was unable to reach their village due to severe floods and water-logging.
"I was not aware of this incident. Hence, I'll be able to tell you anything only after checking with the concerned authorities," said Dr Ravi Rawat of Prithvipur district hospital.
Similar incidents stemming from the lack of prompt medical facilities have taken place in the recent past.
Over two weeks ago, a man in the same district was forced to carry the body of his mother on a motorcycle for post-mortem.
The woman, identified as Kunwar Bai, had died due to a snake bite. Her family then informed a district hospital in Mohangarh for a post-mortem to be conducted.
However, the hospital allegedly denied sending a hearse van for the deceased.
Thereafter, Kunwar Bai's son and her relatives brought her body on a motorcycle to the hospital for the post-mortem to be conducted, a video of which was widely circulated on social media.
(ANI)