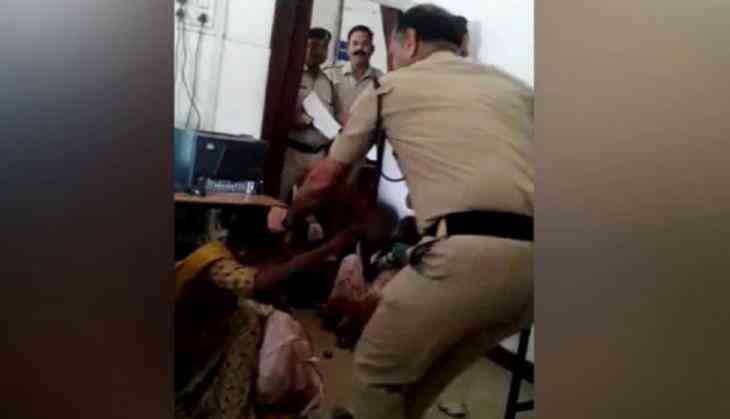 Cop caught on camera ruthlessly thrashing woman
A horrifying incident took place in Madhya Pradesh's Gwalior, where the police officer reportedly ruthlessly assaulted a woman with a stick. The incident which took place in the police station was captured in the camera where we can see even children are present inside the station.
In the video, it can be seen three women were sited on the floor of the police station, each holding their kids. It is when the police officer gestures at them to get up, the women start crawling away while pleading and crying. All of a sudden the officer starts beating one out of the three women and grabs her hair forcing him to stand up.
The officer hits the lady mercilessly at her back whereas the lady is crying and pleading in the video to leave her. In the video, three more police officers can be seen who are enjoying the horrific view as they were smiling throughout the assault.
While the video is gearing everyone's attention, Gwalior police claims that the video is two-years-old and said that the officer in the video is away on poll duty and as soon as he will return they will question him.
Around three years before in August 2016, a similar incident was reported that a constable from the same police station was seen ruthlessly hitting a boy before grabbing him by his neck and throwing him on the ground over a petty theft. Later, the constable was suspended and an inquiry was also ordered.
Also Read- Noida: Shame! 6-year-old girl mercilessly assaulted by madrassa cleric for this silly reason