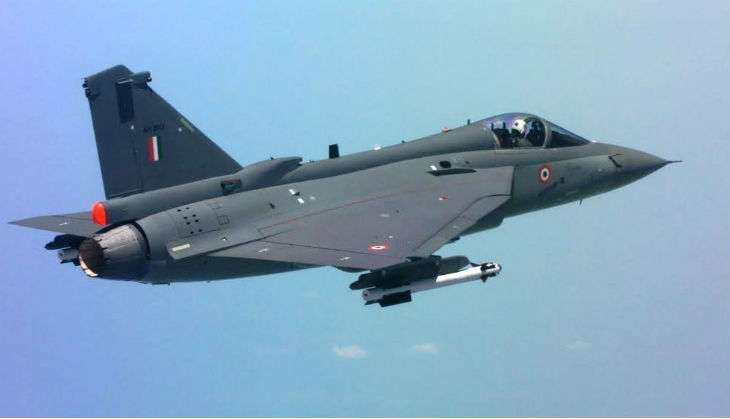 The Indian Air Force (IAF) is all set to induct country's first indigenously developed fighter jet Tejas Light Combat Aircraft (LCA).
The idea for Tejas was born in the 1970s. A team of researchers began work on the aircraft a decade later. After various inputs, technical collaborations and delays, the machine is now ready to soar.
Here are facts you need to know about the HAL Tejas:
Avionics
The LCA is a single-seat, single-engine aircraft (and twin seat for training) that has been jointly developed by the Defence Research and Development Organisation (DRDO), Hindustan Aeronautics Limited (HAL), and the Aeronautical Development Agency (ADA).
The aircraft has been described as an "aerodynamically unstable tailless compound delta-wing configuration, optimised primarily for manoeuvrability and agility".
Touted to be a lightweight machine, the aircraft is perhaps world's smallest jet in this category.
Light Combat Aircraft
The LCA's 45% mainframe is made of composite materials. This means that in the same thrust, the aircraft can move faster and manoeuvre smarter. The percentage use of the composites is one of the highest among contemporary aircrafts of its category.
First Squadron: Flying Daggers 45
The first squadron of two Tejas will be known as 'Flying Daggers 45'.
After being inducted in Bengaluru, the squadron will be moved to Sulur in Tamil Nadu after two years of initial operations. The IAF has said it will have a total of six aircrafts this financial year and eight in the next.
Finally! A replacement for the deadly MiG-21s
The LCA will replace the ageing MiG-21s jet of the IAF. The Russian MiGs were inducted in 1960s and are now one of the oldest machines of the IAF. The jets have now gained a reputation for being dangerous as a rising number of accidents have earned them the nickname, "flying coffins".
"Next year I think two MiG-21 squadrons are being decommissioned; this will go into initially replacing them," Defence Minister Manohar Parrikar had said last month.
The Tejas will start replacing the MiG-21s from 2017. According to the plan, the LCAs will replace two MiG squadrons next year.
Loaded with modern warfare technology
The multi-role radar on Tejas - jointly developed Israel and India - is fit to work in all-weather situations. Like any other next generation jet, the Tejas can carry air-to-air and air-to-surface missiles.
Its head-up-display (HUD) shows real-time targets, altitude, speed, radar lock, and other information on the eye-focus on the pilot. "This simplifies aircraft operation and navigation and allows pilots to focus only on the most pertinent information," says the ADA.