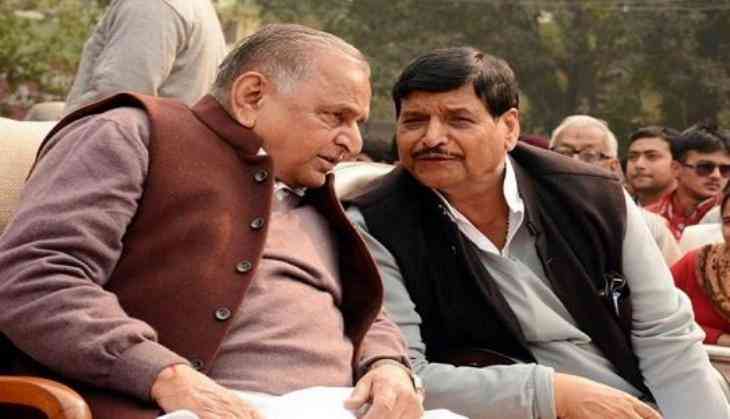 Shivpal Yadav and Mulayam Singh Yadav
Amidst the rift between Akhilesh Yadav and Shivpal Yadav, the latter has launched a new party Pragatisheel Samajwadi Party (Lohia) (PSPL) which made its debut in a rally at Rama Bai Ambedkar ground.
Chief guest Mulayam Singh Yadav was present at the event but fairly embarrassed his brother when the former kept talking about the Samajwadi Party rather than the new outfit PSPL.
The rally which was also being attended by the daughter-in-law Aparna Yadav, had earlier said that she would join the outfit of Shivpal Yadav and contest in the upcoming 2019 polls.
Mulayam Singh Yadav said at the rally, "The country is facing a series of problems. Some communal forces are rising, against which I had to struggle a lot in the past. Sometimes, I feel like I have to struggle my whole life. The other problem is that the neighbouring countries, be it China or Pakistan, are working against India… This is why I am saying that there are a lot of challenges in front of our Samajwadi Party and even today I can say that (we) do not differentiate between the common people, be it forward or backward, Hindu or Muslim. Samajwadi Party treats all human beings as equal," as reported by The Indian Express.
As the exit polls are predicting a low for the BJP, the non-BJP parties might now gear up for the polls as the myth of Modi-Shah indefensible partnership are getting mirror cracks in the battleground and if the BJP loses the Hindi heartland, then the spill over effect will be seen in the upcoming 2019 polls, where UP has the biggest significance.
Also read: Lok Sabha Election 2019: Opposition leaders to meet today to discuss path for the 'Mahagathbandhan', AAP to