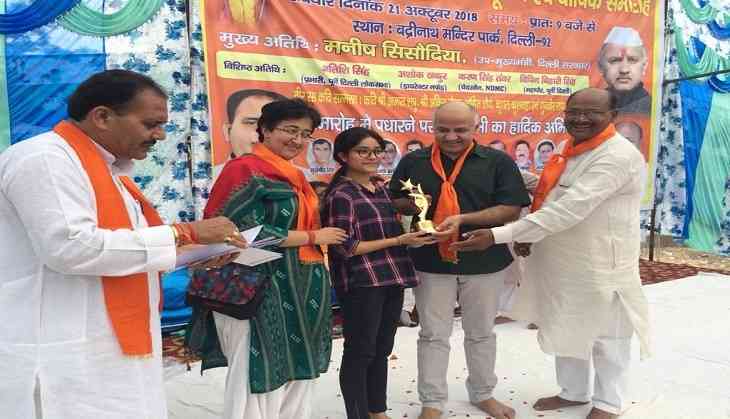 Atishi at a function (Twitter)
The Aam Aadmi Party has been ruling in Delhi but the controversies are not leaving its manifesto as in the latest development, the AAP leader 'Atishi Marlena's' surname has been changed to 'Atishi Singh'.
Atishi is a probable candidate for the AAP in the upcoming Lok Sabha election from East Delhi Constituency. The 'new name' of Atishi was showcased in a poster where an event was taking place and Deputy CM Manish Sisodia was also present during the function as reported by OpIndia.
The AAP was alleged that in August this year, Atishi had dropped her last name 'Marlena' as it was a 'Christian' sounding name and could not garner votes in the upcoming elections. The party had denied all such allegations and termed them as baseless and said that her surname was Singh but Marlena was given by her parents.
Later on, Atishi changed her twitter handle from @Atishimarlena to @AtishiAAP and the party posters followed the suit. The name was changed on the AAP website and other party banners and documents as well.
Atishi had earlier said in this matter that "My actual surname is Singh and I come from a Punjabi Rajput family. Had I wanted to appease voters then I would have gladly used my real surname." She was infamous recently for transforming the education system of government schools which was seen in this year 12th Boards result where Delhi's government schools fared better than the private schools.
आज उप-मुख्यमंत्री @msisodia के साथ AAP की पूर्वी दिल्ली लोकसभा प्रभारी @AtishiAAP पटपड़गंज के बद्रीनाथ पार्क में क्षत्रिय विचार मंच द्वारा आयोजित विजय दशमी शस्त्र पूजन एवं वार्षिक समोराह में शामिल हुईं एवं बच्चो को पुरस्कृत किया। pic.twitter.com/lOYlV1S7Tj

— Aam Aadmi Party Delhi (@AAPDelhi) October 21, 2018
Although, its still not clear whether the name written on the poster was an inadvertent error by the organizer of the event or some AAP functionary but the website of AAP still carries her name as Atishi only.
Also read: Sabarimala Temple row: SC defers the hearing for 19 review plea pending in regard to the entry of women in 10-50