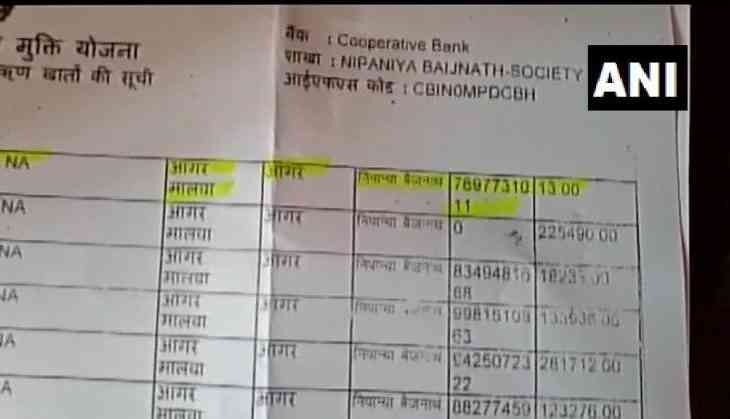 As the Congress party was able to form the government in Madhya Pradesh by decimating BJP, it has come to light that the Kamal Nath administration has waived off Rs 13 instead of Rs 24,000 loan of a farmer in MP.
A Madhya Pradesh farmer named Shivlal Kataria was flabbergasted after he saw Rs 13 being waived off by the State Government against his demand of Rs 24,000 by the authorities.
Earlier, it was the Congress' government under Kamal Nath, which after coming to power had waived off farm loans up to Rs 2,00,000 in a couple hours after Nath assumed office.
MP:A farmer of Agar Malwa's Nipania Baijnath alleges his name was included in list of farm loan waiver,stating only Rs 13 waived off from loan of Rs 20000.Says,"My loan of Rs 20000 must be waived off as govt is waiving off loans up to Rs 2 Lakh.Officials say can do nothing.(21.1) pic.twitter.com/dtn2QkrW2J

— ANI (@ANI) January 24, 2019
But, Shivlal Kataria has said that "The state government had promised to waive loans up to Rs. 2 lakh. Forms were filled and I was expecting a complete waiver of my loan amount of Rs. 23,815. But the list that has come to the panchayat says only Rs. 13 have been waived."
Shivlal, who is a resident of Agar Malwa district, which came in news in 2017 after a huge protest by the farmers and the most affected areas included the Malwa region.
Shivlal Kataria has further said that "I am an honest farmer. I have been regularly paying my dues. On questioning, the staff said that I did not have loan on me on the date of loan waiver. There are major irregularities in the loan waiver scheme. I have reported the matter to the authorities."
Although, Cabinet Minister Omkar Singh has clarified stating that "Irregularities which happened at the stage of loan disbursal are now surfacing. We are taking required action."
Also read: 'Snatch away voting rights of those who have more than 2 kids,' says Baba Ramdev, in a controversial statement