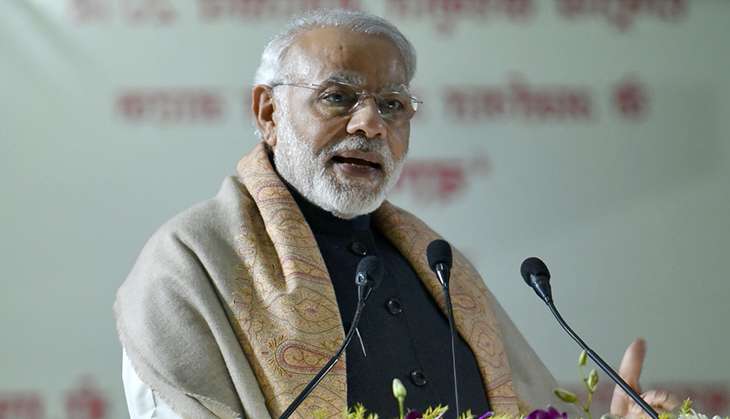 Prime Minister Narendra Modi addressed a public meeting in Dehradun on Tuesday, during his Uttarakhand visit where he officially inaugurated Char Dham highway project and laid the foundation stone for Char Dham Yatra - an annual pilgrimage to the shrines of Kedarnath, Badrinath, Gangotri, and Yamunotri.
Meanwhile, at the Opposition's Joint Press Conference that was held at Delhi, Congress Vice President Rahul Gandhi and West Bengal Chief Minister Mamata Banerjee took jabs at the ruling party and came out in strong critique of demonetisation.
Updates on PM Modi's Parivartan Rally in Dehradun, Uttarakhand
-We must empower the honest, crack down on the corrupt.
-The nation has come forward to fight corruption. Nothing could be bigger than this.
-The money hoarded in their houses belongs to you.
-We were fully aware of what the corrupt would do after the demonetisation drive. We caught them.
-It is not black money but a black heart which is a problem.
-You have not made me the PM to cut red ribbons during inaugurations and light candles. You have given me the duty of a watchman and that is what I am doing.
-I have given OROP to our forces.
-For 40 years, defence forces have been demanding One Rank One Pension. The previous governments could not provide them.
-It is time to save the people of Uttarakhand.
-Today you get only 9 LPG cylinders, if the BJP government comes in Uttarakhand, we will provide you 12 LPG cylinders.
-We introduced electricity to 18,000 villages.
-Government officials asked me how I could do what earlier governments could not do in 70 years.
-The development and provision of electricity in the higher mountains of Uttarakhand is for the poor and not for the rich.
-Will take Uttarakhand to new heights of development.
-Tourism is the biggest asset of Uttarakhand. If facilities are provided, then which family in the country would not want to come here?
-Hasty conception of schemes may be able to give short term political gains but the gains for people will be limited.
-Aapko lagta hoga ki Modiji aapne aate hi shuru kyun nahi kiya? Mere liye ye political karyakram nahi hai.
-Yeh rajneta samaj le, woh zamana chala gaya, janta hai sab kuch janti hai.
-Mere desh mein aesi sarkaarein aayin ki 125 crore ke iss desh mein bhi aavashyak suvidhaayein nahi de paayin.
-I can clearly see that Uttarakhand cannot wait any longer for development.
-The inauguration of Char Dham project is a tribute to those who lost their lives during Uttarakhand flash floods.
-You have overwhelmed me; I can see so many people and I am happy that women have joined this rally in large numbers.
-2014 Lok Sabha ka chunaav tha,mai swayam PM candidate tha aur isi maidan mei aaya tha;us samay adha maidan bhi bhara nahi tha. Aaj kya karaan hai?
-Yeh Deo bhoomi hai, yeh veeron ki bhi bhoomi hai, aur is dharti pe aap mujhe ashirwadh dene aaye, main aapko naman karta hoon.
-I thank all of you for coming here today.
Also read - Demonetisation biggest scam since Independence: Mamata Banerjee at Congress joint press meet