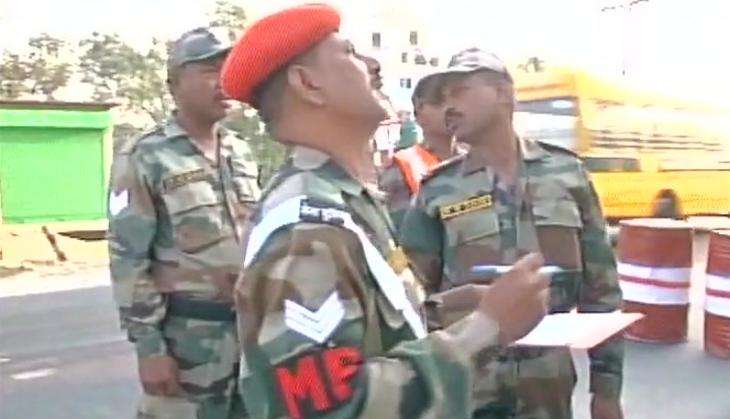 Kolkata Police, on 2 December, said that they had denied permission to the Army on 25 November not to go ahead with its annual audit exercise in the high-security zone and because of the traffic at Nabanna at two toll plazas on National Highway 2 in West Bengal.
"We had said that you can search any other area after consultation with us," said Supratim Sarkar, Additional CP-III, Kolkata Police.
The Army letters show that it was in communication with the West Bengal police on the annual exercise to "gather statistical data about load carriers that could be made available to the army in case of a contingency."
Also read:Army deployment row: Parliament adjourned till 5 Dec amid uproar
Notwithstanding Bengal Chief Minister Mamata Banerjee's allegations that army was deployed at two toll plazas on National Highway 2 in West Bengal without informing the state government "which is unprecedented and serious matter", Acting General Officer Commanding (GOC), (Headquarters), Bengal Area, Major General Sunil Yadav said army formations in the Eastern Command at local levels are carrying out routine annual data collection exercises on availability of load carriers at all major entry points in various states in coordination with local police authorities.
"This is an exercise carried out for our operational purposes, which will terminate to its logical end tonight. They are only collecting data of heavy vehicles, which is an annual exercise being carried out every year. Similar exercises are also being carried out in Jharkhand, Uttar Pradesh and Bihar from September 26 to October1 this year," said Maj. Gen. Yadav.
Terming the allegations of money collection from commuters at the toll counters at Dankuni toll plaza in Hooghly district and Pallsit toll plaza in Burdwan district "baseless", Major General Yadav said, "You must be aware that we have specific targets, specific information and data to be collected. On the completion of data collection at Nabanno, the Bengal State Secretariat, the team was withdrawn last night around 12 o'clock. We were there for almost for 36 hours."
Addressing the Lower House of the Parliament, Defence Minister Manohar Parikkar said West Bengal Chief Minister Mamata Banerjee's allegation that the state's rights are being impinged upon by the Centre was a clear sign of her political frustration, and added that it is saddening to see her and other opposition parties questioning the credibility of the Indian Army while it was performing a routine annual military exercise.
Echoing similar sentiments, Information and Broadcasting Minister M. Venkaiah Naidu told the Rajya Sabha that West Bengal government was informed about the drill while urging the Upper House to not drag the Indian Army into an unwarranted controversy.
Hysteria gripped West Bengal yesterday night after Chief Minister Mamata Banerjee decided not to go home and instead stayed put at the state secretariat Nabanna to protest against the "sudden deployment" of the army in the area.
Banerjee camped overnight at her office in the secretariat in Kolkata, objecting to the presence of Army jawans at toll booths, one just 500 metres from where she was.
"Is this a military coup?" the Banerjee asked, alleging that the state government had been had not been informed about what the Army said was a routine exercise that it was conducting across eastern states.
--ANI