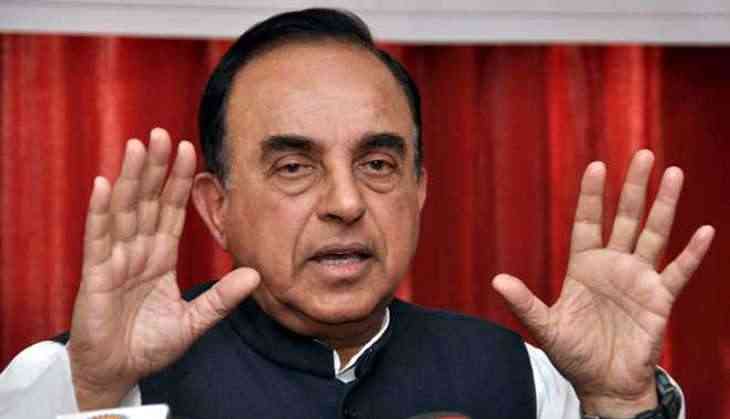 Bharatiya Janata Party (BJP) leader Subramanian Swamy on Thursday said Minister of State for Civil Aviation Jayant Sinha should not be allowed to take part in the decision making process of Air India airlines disinvestment process as he was previously employed in a Multi National Corporation and might favour them on the same.
Talking to ANI, Swamy said he was against the disinvestment of the Air India.
"I was against doing it, but the cabinet decided it otherwise. But, now what is necessary is that the valuation of Air India should be done properly and not to favour anybody as foreign companies like PricewaterhouseCoopers, Morgan Stanley have been tasked to do the valuation of the Air India," Swamy told ANI.
He further added: "Some of our people, who are in the decision making, were formerly employed by them, for instance Jayant Sinha. I am not objecting, but he must be kept out."
The Cabinet on Wednesday gave in-principle approval to disinvest government's stake in Air India.
Finance Minister Arun Jaitley said that on the request of the Civil Aviation Ministry a group of ministers will be constituted to work out on the modalities of the matter.
"There was a proposal of civil aviation ministry of disinvestment of Air India, this has been given theoretical approval or an in-principal approval," said Jaitley.
"In its proposal, the civil aviation ministry had urged to constitute a group under the finance minister which can decide on the concerning modalities of the same, the cabinet has accepted that. How much of it will be disinvested? Or the issues related to its debts, hotels will be later on decided by the constituted group," he added.
This step comes in the view of Ministry of civil aviation's efforts to revive Air India, which is surviving on Rs 30,000 crore bailout package extended by the previous UPA regime.
Air India constitutes of the largest fleet of 140 planes in India.
According to reports, the cabinet chose between two options suggested in a 30-page note prepared by the Department of Investment and Public Asset Management (DIPAM) after discussions in a Committee of Secretaries, headed by the cabinet secretary.
-ANI