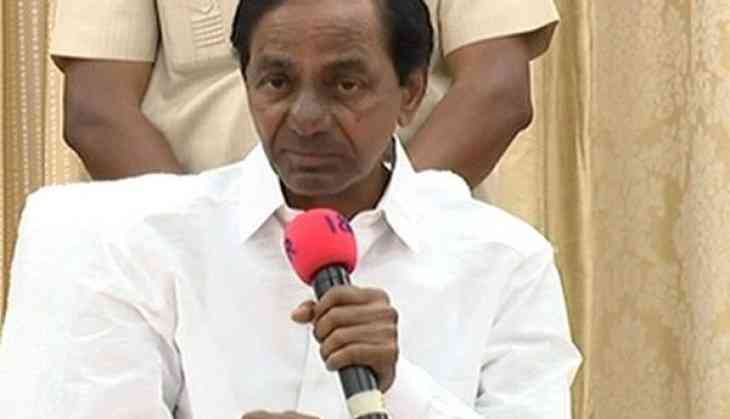 Telangana Rashtra Samithi (TRS) party president and caretaker Chief Minister K. Chandrashekar Rao on Tuesday announced a 'partial manifesto' for the forthcoming elections and revealed key promises of the party.
Addressing the media on the occasion, KCR informed that the TRS manifesto committee has received as much as 300 demands from the public and during the last four years of ruling the state, they had also noticed few demands of the Telangana public.
The Manifesto, it was told, has been designed according to the estimation of the financial situation in the next five years in the state.
KCR also used the occasion to launch a scathing attack on the central government and said, "Central government has given nothing to the state projects like Mission Bhagiratha and Mission Kakatiya. In the next financial year, the state will have 10 lakhs 35 crores budget. Telangana state has a loan of 2 lakhs 70 crores which has to be paid in the next 5 years."
He also elaborated about his government's key schemes and said that state's own revenue grew well under his dispensation, "In next 2 years all the pending projects will be finished in the state and 100 acres of land will receive water in the state. Rythu Bandhu scheme is getting a great appreciation from all over the world. Where farmer will be the king of Telangana state. In last 4 years, the state's own revenue has grown up to 17.17 per cent and in last 2018 financial year, the growth of the state's own revenue was 19.73 per cent during the TRS government."
KCR claimed that Aanganwadi workers, Home guards, Asha workers and Municipal staff in Telangana are paid the highest amount of salary's in India as compared to their counterparts elsewhere.
The key points of partial manifesto released today included 1 lakh farmers loan waiver, increasing Rythu Bandhu scheme to 10,000 from 8,000, food processing units in every district for women empowerment, increasing regular pension from Rs.1,000 to Rs.2,016 and physically handicapped pension to Rs. 3,016 from Rs. 2,000 and introducing unemployment fund of Rs 3,016 per month.
KCR also announced that Raithu samanvaya committee will get proper honor in the next 5 years.
The Telangana State Assembly was dissolved prematurely by K Chandrashekar Rao, who called for the advancement of polls in the state. The Legislative Assembly elections in the state are due to be held on December 7 to elect members of the 119 constituencies.
-ANI