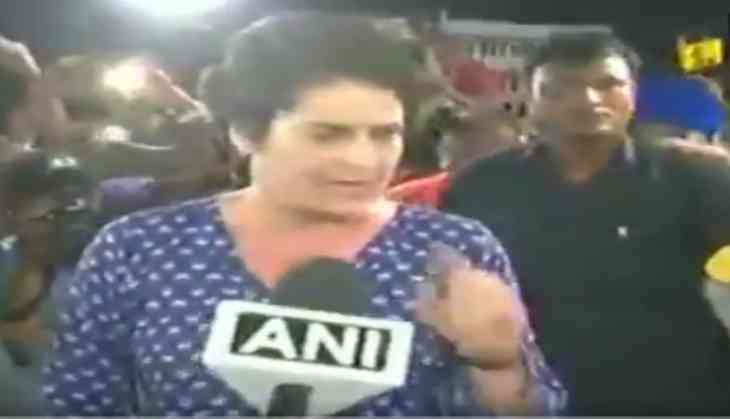 The Congress chief Rahul Gandhi headed a midnight candlelight march at India Gate to protest against the sexual violence against the women. In the candle march, Sonia Gandhi's daughter Priyanka Gandhi also participated the protests along with Rahul and others. During the candle march, Priyanka Gandhi was heckled by Congress workers at India Gate.
The Congress workers badgered Priyanka Gandhi to express their anger and grief over the incidents of rape in Jammu and Kashmir's Kathua and Uttar Pradesh's Unnao. The huge public gathered to protest against the sexual violence at India Gate and when Priyanka was trying to speak to journalists, she was allegedly pushed by the crowd, along with the Congress workers.
Priyanka lost her cool and slammed the Congress workers and asked them to respect the cause for which they have gathered. Priyanka was also seen on shoving the journalists who were trying to speak to her. She told the crowd to participate in a peaceful manner. "Those who have come here to push people around must go home," she was heard saying to the crowd.
Priyanka rebuked the unruly crowd, saying people should "at least respect the cause" for which they had come together, reported ANI.
"Nobody will push each other," said a visibly miffed Priyanka.
"You should all know the reason for which you have gathered here. If you cannot behave, go home. Now, all of you will silently walk," she said.
WATCH: Priyanka Gandhi gets angry at the candlelight march, says 'Nobody will push each other. You should know the reason for which you are here. If you cannot behave go home. Now, all of you will silently walk till there' pic.twitter.com/Hlu9cSKOJG

— ANI (@ANI) April 12, 2018
Priyanka was accompanied by her husband Robert Vadra and their children, who were also present at the march along with other Congress leaders, party workers and students.
"We are here against crimes being committed against women, against rapes, violence and murder and the government must act on this. This is a national issue and not a political one," said Rahul at the march towards the India Gate.
The issue transcends political lines, said the Congress president. "This is about our women. Thousands are present here including the common people and people from all parties. This situation in the country is such today that one after another incident of murder, rape and violence is taking place. We are standing here against that and we want the government to act," he said.
The probe in the Kathua gangrape and murder case has disclosed that the deceased was kidnapped in a temple, drugged, and repeatedly gang-raped, even before her murder to scare the Muslim Bakerwal community to leave the village. Eight people have been held by the cops, including two Special Police Officers (SPOs) and a head constable, who was charged with destroying evidence.
Also read: Unnao rape case: Rape accused BJP MLA Kuldeep Singh Sengar held by CBI for questioning