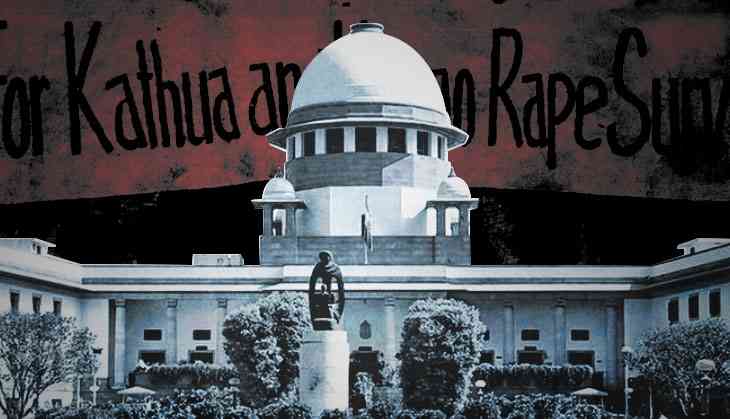 The horrific rape and murder case of eight-year-old minor Kathua girl have triggered a massive outrage across the country and sparked worldwide condemnation. The family of the minor girl is fighting to give justice to her daughter and facing life threats from politicians and villagers. The mother of minor girl alleges they are being pressured by local politicians and it is like a family versus four villages.
"If there is no justice, shoot all four of us," she said, two days ahead of the Supreme Court's decision on whether the trial should be moved out of Jammu and Kashmir. "They will kill us if they are freed. People in four villages are after our lives. We are only four people... everything is gone; our house, our entire property is gone," the child's mother told to a leading channel.
The Kathua girl's mother who lost her child months ago in a horrific bone-chilling incident alleges that her family is been pressurized by the local politicians seeking to agree to a CBI probe in the case. While the family wants the states Crime Branch of the state police to continue the probe in the rape and murder case of their daughter. The girl's mother alleges that politicians are pushing for a CBI probe "to save the accused."
"If the police had acted when we first filed a complaint, the child could have been saved but they sat on it for seven days," victim's mother said. "Koi begunah nahin hain (no one is innocent)," the mother added. The eight rape and murder accused have filed a petition in the top court seeking a CBI probe in the case to catch the real culprits.
Also read: Love Jihad: BJP MLA advocates child marriage of girls to stop 'love-jihad'; says 'find girls a groom before they turn 18'
"I am not allowing their goats into our area. We have our Hindu Gaddis. They have been saying we will build a mosque on your house. If CBI inquiry is ordered you will know who has done this," Sanji Ram had said.
Earlier, the minor girl's father has requested the Supreme Court to transfer the case trail out of Jammu and Kashmir to Chandigarh citing a life threats, 'backlash' and lack of security for his family. "We are apprehensive that the trial will not happen peacefully, seeing the condition in Jammu... seeing that lawyers opposed it in Kathua and did not let the charge sheet proceed," the family's lawyer told the top court.
State's police charge sheet states that the murder was carefully planned one month ago to drive out the nomadic community