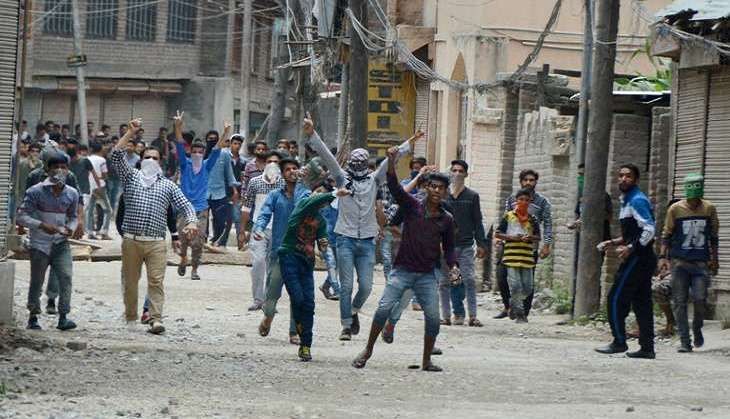 On 11 July, Home Minister Rajnath Singh reached out to opposition leaders - including Congress chief Sonia Gandhi and former Chief Minister Omar Abdullah - to discuss the situation in Kashmir.
During the telephonic conversation with Gandhi and National Conference leader Omar, the Home Minister discussed the efforts to bring back peace and normalcy in Kashmir Valley, which is witnessing violent protests after killing of militant leader Burhan Wani on Friday, official sources said.
The Home Minister's discussions with Gandhi and Omar, who ruled Jammu and Kashmir between 2009 and 2015, are believed to be an attempt by the central government to take opposition leaders into confidence.
In a statement on 11 July, Gandhi voiced anguish over the loss of lives in the clashes and added that there can be no compromise on matters relating to national security.
On 10 July, Omar said that his party was ready to contribute towards maintaining peace in Kashmir but Chief Minister Mehbooba Mufti should take the lead in showing the way.
Singh is also speaking to other opposition leaders on the Kashmir situation, sources said.
The Home Minister has already spoken at least twice to Jammu and Kashmir Chief Minister Mehbooba Mufti and assured her all central assistance to tackle the violent protests, which has claimed at least 23 lives so far.
Meanwhile, the Home Minister reviewed the Kashmir situation for the second time in as many days and instructed officials to do the needful to bring back normalcy in the state.
Normal life remained paralysed for the third day on 11 July the Valley due to curfew-like restrictions and separatists-sponsored strike in the wake of the killing of Wani.
Authorities have strengthened the presence of security forces in vulnerable areas of the city and elsewhere in the Valley to contain the protests.
Restrictions were being enforced strictly today to avoid any further loss of life or damage to property, officials said.
--PTI