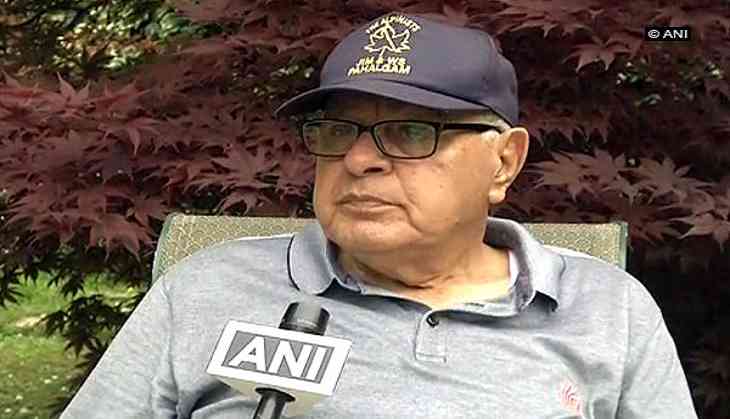 Former Jammu and Kashmir chief minister Farooq Abdullah on Thursday welcomed the idea of having a conclave on the Kashmir issue to look for a political solution to current dire situation in the valley.
Asserting that Kashmir is not an issue concerning one party, Abdullah said it will be good if the proposed conclave can emerge with a probable solution to resolve the incumbent crisis in the valley.
"Leaders are meeting to discuss the way forward as far as the Kashmir situation is concerned. I think we all should be happy if they come out with some solution that they can put before the Prime Minister on which he can act, because Kashmir is not only a problem for one party, it is the problem for all of us. And, I think to solve this,we need the good wishes of all parties to work towards the political settlement of this problem," said Abdullah.
Echoing similar sentiments, Congress leader Sandeep Dikshit said leaders like former prime minister Manmohan Singh who in the past had established peace in the valley will definitely carve out a solution to combat the Kashmir crisis.
Dikshit said, "I welcome this step, when the government is not able to understand how to churn out an effective solution to combat the Kashmir crisis, it is a very good initiative, it involves senior people to resolve the issue. Dr. Manmohan Singh is a very sorted person and under his governance the situation in Kashmir was pacified. Narendra Modi will never be able to understand that under what positive circumstances did the Manmohan Singh government bring back peace in the valley."
A series of meetings between opposition leaders to plan a conclave on Kashmir, as also to look for a political solution, has picked up pace in Delhi.
On Wednesday, JD(U) leader Sharad Yadav met former Prime Minister Manmohan Singh for the second time in recent days to discuss the proposed conclave. A date for the conclave is likely to be decided after a meeting between Singh and Congress chief Sonia Gandhi.
Leaders from all parties, including the ruling BJP, are expected to be invited for the conclave, which is likely to be addressed by experts, activists and writers.
There have been spiraling protests in the valley with students, including girls, seen pelting stones on security personnel in these incidents.
There was massive violence during the April 9 by poll to the Srinagar Lok Sabha seat in which eight people lost their lives in more than 200 incidents.
Kashmir has been on the boil since the death of Hizbul Mujahideen militant Burhan Wani in an encounter in July last year. More than 90 people lost their lives, while scores of security personnel and civilians were injured in protests that followed Wani's killing.
-ANI