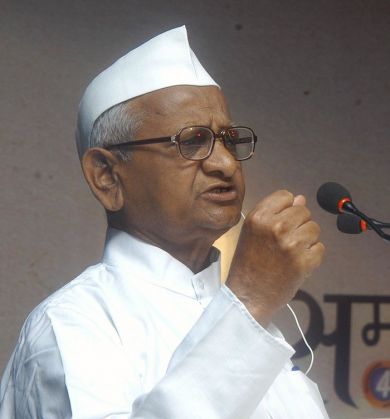 Social activist Anna Hazare joined former servicemen protesting against the Centre over non-implementation of the One Rank One Pension (OROP) scheme at Jantar Mantar, Delhi on 26 July.
Here are the highlights of Hazare's speech
Addressing the people present at the Jantar Mantar he said, "I have come here today to make sure whatever needs to be done for OROP will be done, but my only request is that it should be done in a non violent manner."
Speaking about the rallies he said that he will go to various parts of the country to raise this issue, on 2 August he will go to Ludhiana, Rohtak on 9 August and Maharashtra on 23 August.
He also revealed that on 2 October all the protesters will converge at Ramlila Maidan for a big protest, just like they had done for the Lokpal.
Speaking about the BJP leaders he said that they are thinking they promised and people voted for them. They are now in majority, if they think no one can touch them now, they should realise that each day will be difficult for them.
He said that there were so many assurances about removing corruption but so far nothing has been done by the government now .The government had also promised they will allow OROP.
Speaking about Manohar Parrikar he said that our defence minister is a good man. I know him. He had decided on allowing OROP. I had decided to set aside rupees 500 crore for this. But that's still to be been done.
"We cannot alleviate the sadness of families of the veterans. There are several war widows here who get a pension of Rupees 4000, in this day and age, how will they run a family?," he said.
I told people, when my brothers will stand to protest, I will join the protest. I have decided that I will live and die for the society.
Speaking about the hard work of the 'jawans' he said that a jawan is awake at night, that's the reason why people are able to sleep peacefully at night.
He also announced launching an indefinite fast on 2 October in Delhi over the Land Acquisition and to press for OROP.
What is OROP?
One Rank One Pension scheme has been a long-standing demand of nearly 3 million ex-servicemen and war widows in the country. It seeks to ensure that a uniform pension is paid to defence personnel who retire at the same rank with the same length of service, irrespective of their date of retirement.