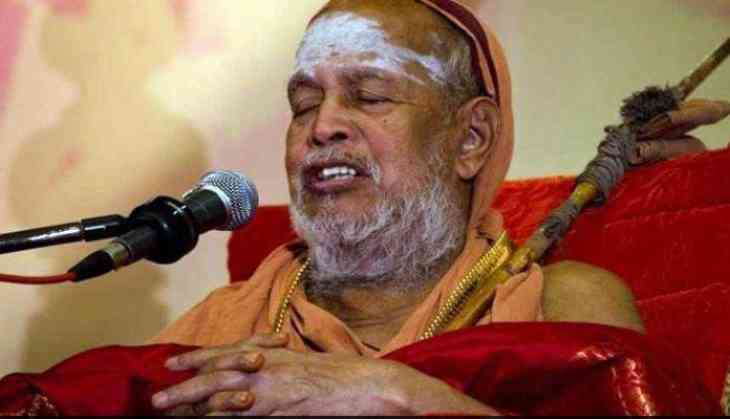 The 69th Kanchi Kamakoti Peetham, Sri Jayendra Saraswathi Swamigal died today at the age of 82 after the cardiac arrest. Shankaracharya was hospitalized to Chennai's Sri Ramachandra hospital this morning reportedly after a cardiac arrest. His mortal remains to be kept in mutt for public viewing till 7 am.
Jayendra Saraswathi's original name is Subramanyam Mahadeva Iyer. After the death of the then Peethathipathi, Sri Chandrasekharendra Saraswathi Swamigal, He took the charge as the Peetathipathi of the Kanchi Kamakoti Peetham on March 22, 1994.
Being the head of a highly respected and traditional spiritual institution, Jayendra Saraswathi had commanded great respect, especially in the Brahmin community. He has enjoyed a good rapport with many high-level politicians across the nation.
He had been named as successor to the Kanchi Kamakoti Peetam by his predecessor, Chandrashekarendra Saraswati, widely known as the 'Mahaswami' of the math, in 1954. He will now be succeeded by Vijayendra Saraswati.
In November 2013, Saraswati was held by the police in relating to the 2004 murder of A Sankararaman, manager of Kanchipuram's Varadaraja Perumal Temple. After a prolonged trial, he was finally acquitted in the case.
Also read: It's Un-Holi: LSR college girl hit with semen-filled balloon
Today, on his death several political leaders took Twitter to express their grief and paid their condolence.
Deeply anguished by the passing away of Acharya of Sri Kanchi Kamakoti Peetam Jagadguru Pujyashri Jayendra Saraswathi Shankaracharya. He will live on in the hearts and minds of lakhs of devotees due to his exemplary service and noblest thoughts. Om Shanti to the departed soul. pic.twitter.com/pXqDPxS1Ki

— Narendra Modi (@narendramodi) February 28, 2018
I pay my respects to Kanchi peethadhipathi Shri Jayendra Saraswati who attained moksha. His contribution for the welfare of mankind and in promoting spirituality will always be an inspiration for others. #JayendraSaraswathi pic.twitter.com/2gcjDFgJmV

— VicePresidentOfIndia (@VPSecretariat) February 28, 2018