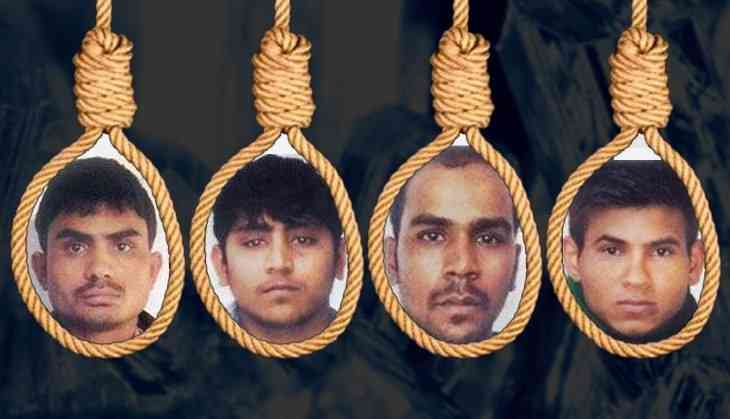 After seven years-long wait, Delhi court on Tuesday has issued a death warrant against the four remaining convicts in the Nirbhaya Gangrape and murder case. The four accused will be hanged till death on January 22, 2020.
This is the big decision that has been taken by a sessions judge at the Patiala House court.
2012 Delhi gangrape case: A Delhi court issues death warrant against all 4 convicts, execution to be held on 22nd January at 7 am https://t.co/K4JCAM0RJa

— ANI (@ANI) January 7, 2020
The court has heard a plea filed today by the parents of Nirbhaya. During the hearing, Mediapersons were asked to leave the courtroom shortly before the court announced its final verdict.
2012 Delhi gangrape case: The 4 convicts will be executed in Jail Number-3 on 22nd January at 7 am. https://t.co/RePMVW8PSZ

— ANI (@ANI) January 7, 2020
As per the reports, Akshay Thakur's counsel has claimed that the police and media 'leaked news' and the counsel for Mukesh Thakur said that he was convicted in a 'media trial'.
Also, convicts Pawan Gupta and Mukesh Singh are yet to file the petition and the mercy plea in the court. While Vinay Sharma's mercy plea was rejected by the President of India.
Notably, the fifth accused Ram Singh had committed suicide in Tihar Jail in March 2013.
Badrinath Singh, father of 2012 Delhi gang-rape victim, outside his residence in Delhi's Dwarka: It's hard to say that such incidents will stop. But if victims start to receive justice, the rate of such crimes will definitely come down. #NirbhayaVerdict pic.twitter.com/LXqTOEK3Gc

— ANI (@ANI) January 7, 2020
Once Nirbhaya's final verdict news came out, social media has been flooded with thousands of reactions and many people were saying 'justice prevailed'. Also, #Nirbhaya becomes the top trend in India after the verdict.
Check out Netizens reacted:
India's daughter gets justice !
Entire Nation stood firm with #Nirbhaya & her family.
This will strengthen the faith on our judiciary.

— Devendra Fadnavis (@Dev_Fadnavis) January 7, 2020
India's daughter gets JUSTICE after 85 months
Justice Delivered and Served
Justice may be delayed, but not denied

Death warrant issued in #Nirbhaya Gangrape & murder case
All four to be hanged on Jan 22 at 7am pic.twitter.com/l8Rj1xZk94

— Vinita Hindustani🇮🇳 (@Being_Vinita) January 7, 2020
Good news finally 4 cheap baStards of Nirbhaya rape case got death warrants they will be hanged on Jan 22 At 7AM# pic.twitter.com/ufVeTGEyir

— ಪ್ರದೀಪ್ ಮುದೇನೂರ್... (@9c2MI3pl2RQUZuv) January 7, 2020
JUSTICE has been served 👏👏
Asha devi ji hats off to u for ur COURAGE , DETERMINATION, u really have come a long way✌️🙏🙏🙏🙏 #Nirbhaya pic.twitter.com/kqAnYUJMxR

— Nikhil Singh (@imnik2001) January 7, 2020
Justice for Nirbhaya .
Finally 💪🎉#Nirbhaya
On 22 Jan at 7am ♥️
Kudos to everybody pic.twitter.com/xkCk5b6azY

— MALIK ANKIT (@Ankittmalikk99) January 7, 2020
#Nirbhaya's mother has hailed the verdict given by a Delhi court, saying her daughter has finally got justice. pic.twitter.com/sD8rHRlMWZ

— Shrikant (@ShrikantGayki) January 7, 2020
" Seven years of #Nirbhaya death, all the four rapist to be hanged on 22nd January at 7am sharp, finally justice given ..." 👨‍⚖️

— Through sands of time ...🍁 (@dastanjannat) January 7, 2020
#Nirbhaya this picture says everything.. pic.twitter.com/P61l7wTD8q

— Sandhya Shukla (@Sandhya_bscp) January 7, 2020
On 16, December 2012, Nirbhaya was brutally gang-raped on a moving bus. The 23-year-old woman succumbed to her injuries on December 29 at Mount Elizabeth Hospital in Singapore. The six accused in the case were arrested after the incident.
Also Read: 2012 Delhi gangrape: A timeline of Nirbhaya case