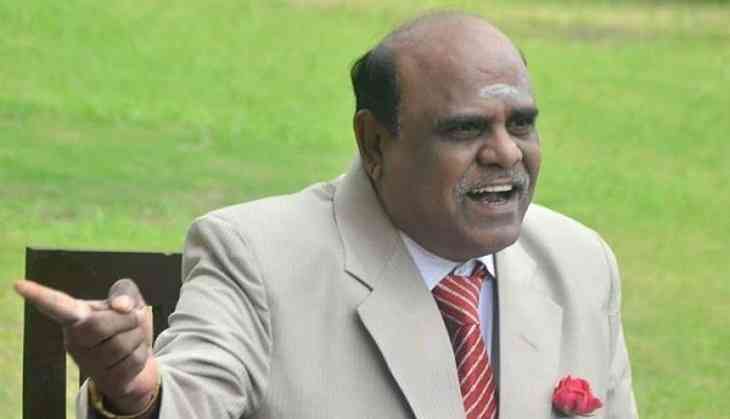 A day after retired Kolkata High Court judge C.S. Karnan was arrested, the Congress party on Wednesday dubbed the former as a 'rotten egg' and asserted that he should have been more mindful as it was a high office which he adorned.
Senior advocate and Congress leader K.T.S Tulsi said that he is ashamed of the way Karnan conducted himself, while adding that it is appalling to him that why did the retired judge instigate a tirade against the judiciary, which serves the nation like a mother.
Averring that Karnan's behaviour became bad to worse Tulsi added that the former should have known that no judge is a free agent as is controlled by law.
"It's a very unfortunate episode, it's unprecedented. Nobody has misbehaved to this extent. There can be rotten eggs in every system. Justice Karnan has been conducting himself in an improper manner for a long time. He has embarrassed his colleagues in Madras High Court and after that he was transferred and it was thought that he will be chastened, but his behaviour went on from bad to worse. And then he started threatening and challenging the authorities of the Supreme Court," said Tulsi.
Meanwhile, the Supreme Court has refused to suspend the six-month imprisonment sentence for Karnan, in a contempt of court case.
A vacation bench of the Apex Court headed by Justice D Y Chandrachud and also comprising Justice Sanjay Kishan Kaul refused to give any relief in the matter.
Mathew J Nedumpara, lawyer appearing for Karnan, mentioned the matter before the vacation bench of the top court.
Nedumpara pleaded to the Apex Court seeking bail and suspension of the six months jail sentence, to which the court observed, "The seven judge bench had passed the order. It binds everybody. It binds us also."
Karnan was arrested by the Kolkata police in Coimbatore, Tamil Nadu on Tuesday and brought to the national capital.
Justice Karnan's close aide and his counsel confirmed the arrest, adding that he would move the Supreme Court seeking Justice Karnan's release and cancellation or suspension of the jail sentence.
As per reports, the Calcutta High Court judge, who was absconding since May 9, will be brought to Kolkata on transit remand.
-ANI