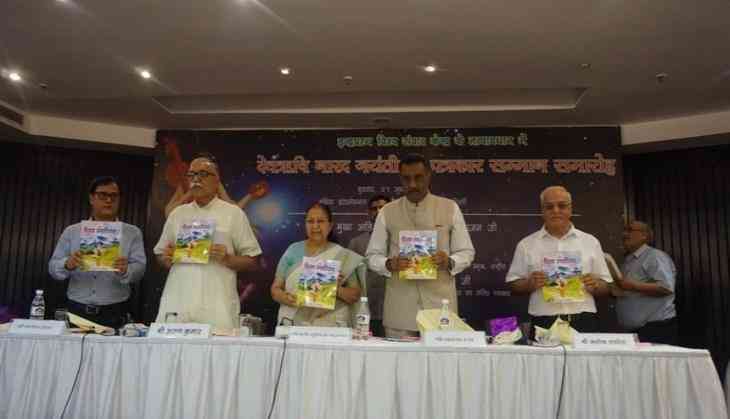 Lok Sabha Speaker Sumitra Mahajan has called on journalists to maintain their reliability, study their respective subjects deeply and report in all fairness.
Addressing the Narad Jayanti Patrakar Samman Ceremony organized by Indraprasth Vishwa Samvaad Kendra (IVSK) at India International Centre here on Wednesday, Mahajan said that more soldiers have laid down their lives in the Kashmir Valley than the total number of martyrs in all the wars since 1947. "Why so? Have we given a thought to it" she asked.
"Therefore, I request you to think on this issue and bring forth the reality, through media, before the people and tell who is responsible for this. Our aim is not just to establish dialogue throughout the country, but with the entire world. Only then, will our society rise. We have to think about the world, we must also consider the welfare of the world along with our welfare. We should learn from Devrishi Narad the art of establishing dialogue with the world," she said.
Keynote speaker Arun Kumar of the RSS said, "We must stop 'self-obliteration' and awaken the soul of Bharat. It has been our folly that we think and act through a western point of view. For some time in past, Naradji was forgotten from our memory but it is a matter of satisfaction that Indraprasth Vishwa Samvaad Kendra has been has been organizing Narad Jayanti Journalist Felicitation Ceremony for past ten years."
He said that it is unfortunate that some elements in society have been raising dispute with regards to nation and nationalism.
In such times it becomes imperative that the ideals set by Naradji are understood by the extended journalist community and understand how he maintained a continuous dialogue between all with social harmony.
Chairman of the programme Maroof Raza said that while managing their professional requirements journalists must also keep in mind the interests of the nation.
"The country is facing several internal and external challenges at the moment and that makes the role and responsibility of journalists even more important," he said.
Annual magazine of Indraprasth Vishwa Samvaad Kendra, "Disha Smarika-2017" was also unveiled on the occasion.
The magazine contains articles from reputed citizens on various issues for guiding the nation in the right direction.
Indraprasth Vishwa Samvaad Kendra felicitated twelve journalists in following categories:
1. Lifetime Achievement Narad Samman- Shri Nand Kishore Trikha
2. Best Journalist Narad Samman- Shri Rahul Sinha, Zee News
3. Best Coloumnist Narad Samman- Ms Sandhya Jain
4. Best Journalist Digital Media Narad Samman- Shri Sanjay Singh
5. Newsroom Support Narad Samman- Ms Nidhi Chaturvedi, Rajya Sabha TV
6. Rural Reporting Narad Samman- Shri Vivek Shrivastav
7. Social Media Narad Samman- Ms Shilpi Tiwari
8. Women Issues Narad Samman- Ms Pratibha Jyoti
9. Best Foreign Reporter on India Narad Samman- Shri François Gautier
10. Best Photographer (Video) Narad Samman- Shri VipinChandra Pujari, News 18
11. Best Photographer (Still) Narad Samman- Shri Hemraj, Bharat Prakashan)
12. Special Jury Award- Balaknama Team (Shri Sanjay Gupta, Director, Chetna, Ms Jyoti, Shri Shambhu, Shri Chetan)
-ANI