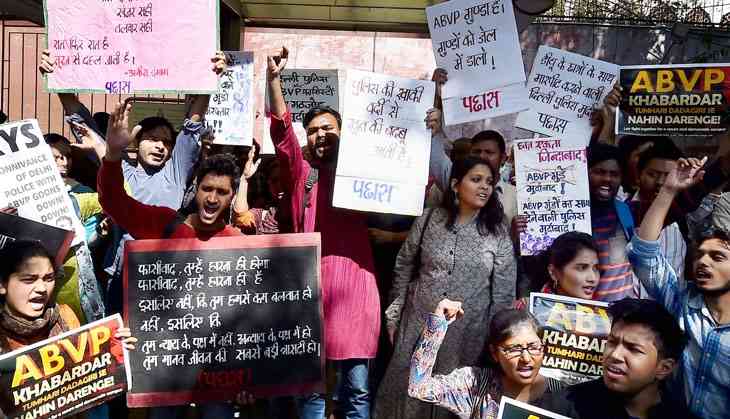 Counting of votes for the Jawaharlal Nehru University Students' Union (JNUSU) polls was suspended early morning after Akhil Bharatiya Vidyarthi Parishad (ABVP) members protested alleging they were not informed about the process.
The ABVP said their counting agent was not informed about the beginning of counting of votes polled in science schools.

In a statement, the JNU Election Committee said it suspended the counting temporarily but refused to name the party which protested.
Members of Left student unions alleged that the ABVP created a ruckus. The ABVP denied the allegation.
"The counting process, which began on September 14 at 10 pm has been suspended due to forcible entry into the counting venue and attempts to snatch away the sealed ballot boxes as well as ballot papers from our counting centres," according to the Left bloc.
They also claimed that their members, including women, faced intimidation.
The Left bloc claimed, "Around 4:00am, ABVP broke the glasses of the School of International Studies building. EC stopped the counting indefinitely."
They also claimed the ABVP counting agent was called but he did not turn up on time.
Vijay Kumar, ABVP president of JNU, said their counting agent was not called and the counting process was initiated in front of the members of the Left outfit.
"We protested peacefully as the EC is biased towards the Left. We did not create any ruckus," he said.
The voter turnout in the keenly contested Jawaharlal Nehru University Students' Union (JNUSU) election on Friday was 67.8 per cent, believed to be the highest in six years. Over 5,000 students cast their votes.
The Left-backed All India Students' Association (AISA), Students' Federation of India (SFI), Democratic Students' Federation (DSF) and All India Students' Federation (AISF) have come together to form the United-Left alliance.
Besides the Left bloc, there are candidates of ABVP, NSUI (National Students' Union of India) and BAPSA (Birsa Ambedkar Phule Students Association).
Technical glitches in EVMs had led to a ruckus during the counting process for Delhi University Students' Union polls on Thursday, leading to suspension of counting for close to three hours. The counting had resumed only after parties reached a consensus.
-PTI