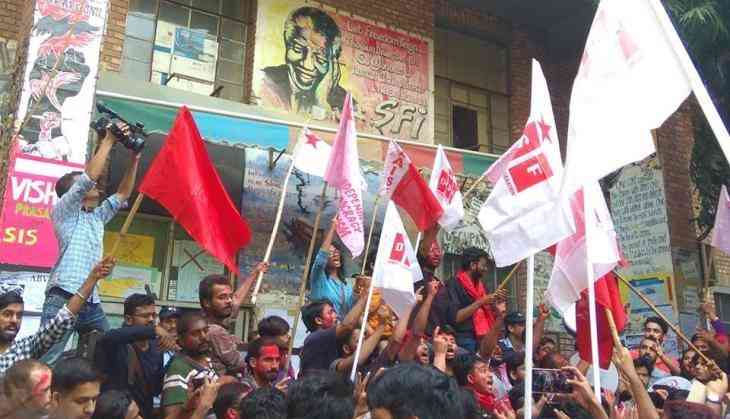 JNUSU Elections 2018: Left Alliance wins all four key posts in JNU students' Union leaders polls. ABVP tastes the dust in students' union leader polls.
N Sai Balaji elected as the President, Sarika Chaudhary as the Vice President, Aejaz Ahmed Rather as the General Secretary and Amutha Jayadeep as the Joint Secretary.
After 14 hours suspension, Counting of votes resumed on Saturday evening. Meanwhile, Members of the Akhil Bhartiya Vidyarthi Parishad (ABVP) claimed that counting had started without informing them.
ABVP supporters allegedly burglarised the School of International Studies building, where the ballot boxes were stored. There was high drama on Saturday following which two teachers from the Grievance Redressal Cell were appointed as observers for the exercise, officials said.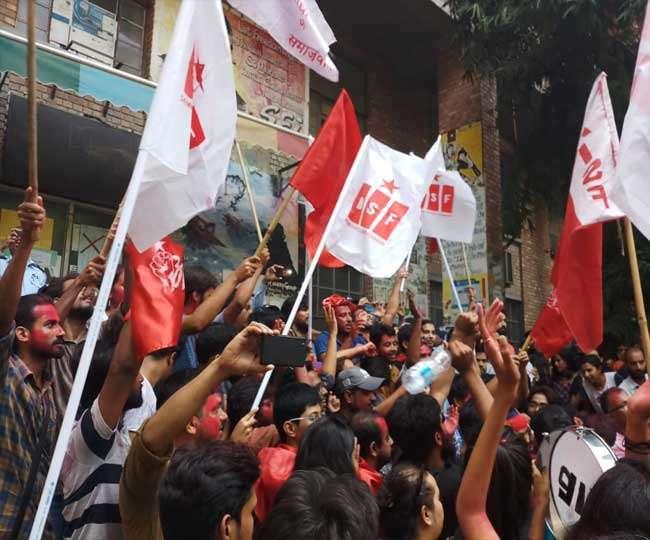 As per reports, the voter turnout in the keenly contested JNUSU election on Friday was 67.8 per cent. It is believed to be the highest voting in six years. Over 5,000 students had cast their votes in students' union elections.
The United front of Left-backed All India Students' Association (AISA), Students' Federation of India (SFI), Democratic Students' Federation (DSF) and All India Students' Federation (AISF) have come together to form the United-Left alliance.
Left Alliance sweep of RSS-backed ABVP, the NSUI (National Students' Union of India) and BAPSA. The JNUSU poll results come within days of the Delhi University student body elections.
RSS-backed ABVP won the three top posts - president, vice president and joint secretary - in the Delhi University Students' Union election; while the Congress-affiliated NSUI took the secretary's post.
Also read: Prashant Kishor, BJP's 2014 election strategist, joins Nitish Kumar's JDU