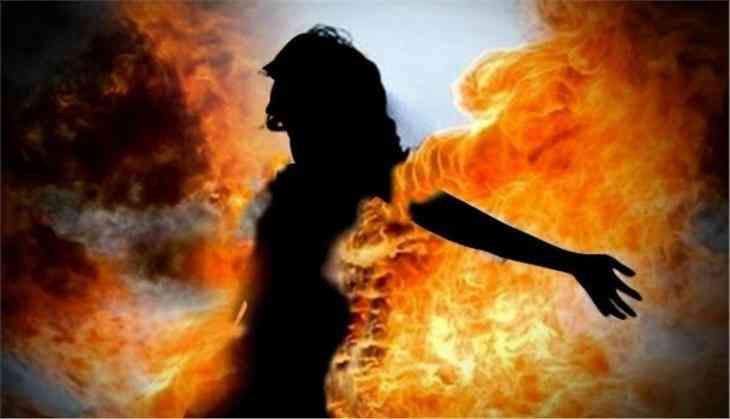 gang-rape and murder of a minor in #Jharkhand's Chatra.In a bone-chilling incident, a 16-year-old girl was brutally gang-raped by four and burnt alive inside her house on Friday, as per reports. The incident took place reportedly in the Naxal affected district of Jharkhand's Chatra's Rajakendua village. The rape accused torched the victim alive in front of her family. Cops have held 14 people in the matter
#FLASH: 14 arrested over gang-rape and murder of a minor in #Jharkhand's Chatra. pic.twitter.com/YTaqccfIdP

— ANI (@ANI) May 5, 2018
According to local media reports, the girl was abducted by four youths from near her house and raped on Thursday night. The family members had gone to attend a marriage. On Friday morning the issue was raised in the village Panchayat over the rape and murder case.
The girl's family said four men, allegedly drunk, picked up their daughter on Thursday night from her house in the Raja Tenduah village; about 60 km from the district headquarters, and raped her. The father of the victim informed about the cruel incident to the local head and other members of the Panchayat. In a move to settle the case, the Panchayat asked the accused to pay Rs 50,000 to the victim and settle the matter. The Panchayat also made the accused to do 100 sit-ups as a punishment for rape.
Enraged over the Panchayat's decision, the accused barged into the house of the victim and thrashed her family members before burning the victim alive to death. The victim's family have registered the case at the Ikthori police station. The four accused in the case are at run a manhunt has been launched to nab them.
In another shameful rape incident in Palamau district, the village Panchayat asked the rape accused to pay Rs 15,000 to settle the matter.
Also read: AMU Jinnah missing portrait row: 'I reward Rs one Lakh cash for the one who tears, burns down the Jinnah's poster,' says Muslim Mahasangh chief; see vide