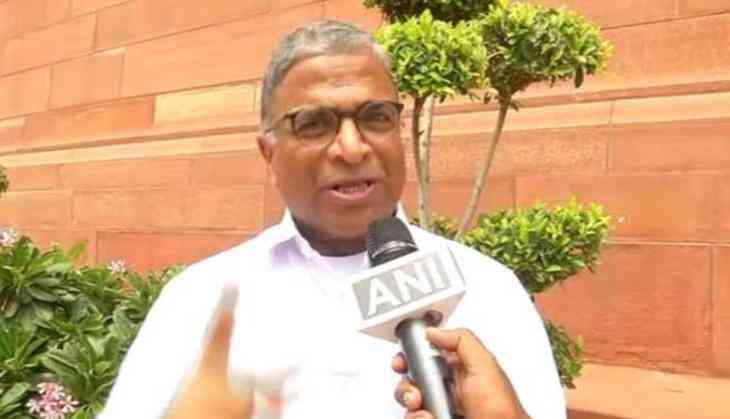 With six Congress MPs being suspended from the Lok Sabha for unruly behavior, Janata Dal (United) leader Harivansh on Tuesday asserted that suspension was not enough and that more stringent punishment is necessary.
Speaking to ANI, JD (U) MP Harivansh said, "It is the most unfortunate incident that has happened in the Lok Sabha. MLA being suspended is a shame to the Congress Party. Also throwing paper at the Speaker and showing an unruly behavior is totally not accepted. Rather than having a good discussion the MLA's are behaving like kids. What example are they setting?".
Requesting the Centre to take action on the MLAs, Harivansh stated that suspending the ministers will not do; government should take more disciplinary measures.
"This incident shows that the Congress Party has lost its mind. Suspending them will not do.the government should take more disciplinary action on them," Harivansh said.
Earlier in the day, Congress vice president Rahul Gandhi along and the rest of the Opposition, protested outside the Parliament at the Gandhi statue against the suspension of six Congress MPs by Lok Sabha Speaker yesterday.
The Congress Party said that Lok Sabha Speaker Sumitra Mahajan should have given the six party MPs a chance to explain their stand before she suspended them.
After the Lok Sabha witnessed uproar during the zero hour, Speaker Sumitra Mahajan yesterday suspended six Congress MPs for five days citing unruly behavior.
The suspended MPs are Gourav Gogoi, K. Suresh, Adhiranjan Chowdhary, Ranjeet Ranjan, Sushmita Dev and MK Raghwan.
The members threw pieces of paper and disrupted proceedings during zero hour when issues of mob lynching and Bofors scam were brought up.
The Opposition members demanded the Prime Minister Narendra Modi's presence to discuss the incidents of lynching in the name of cow protection.
Congress members tore and flung papers on the Chair and raised slogans against the government.
Even after the Speaker's repeated appeals for calm went unheeded and she adjourned the House for lunch.
-ANI