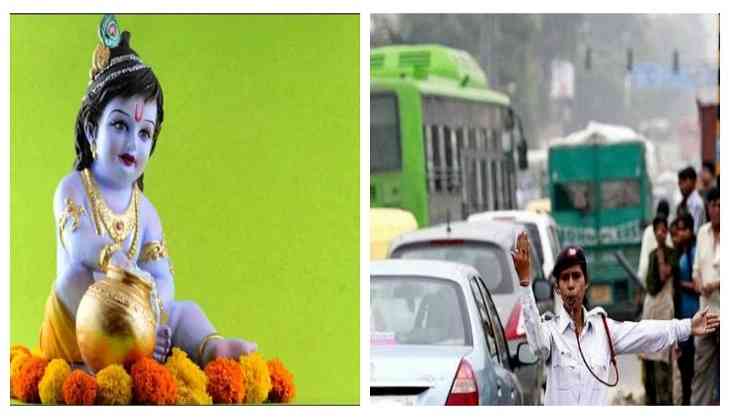 The celebration of Lord Krishna birthday i.e. Krishna Janmashtami has already begun in the country from 2nd September (Sunday). However, today (3rd September), the whole country will celebrate the festival with full of enthusiasm. On this special occasion, the devotes of Lord Krishna visits the temple of Shri Krishna to view the decorations, jhanki, etc in temples.
Due to which the traffic problem also become the issue for the Police. Well, if you are also planning to worship Lord Krishna in Delhi's temples or willing to roam around the capital then Delhi Traffic Police has issued traffic advisory to avoid congestion in the prominent area.
However, this year Gokulashtami is being celebrated on September 2 and September 3. The puja timings have begun from 8:47 pm on Sunday (2nd September) and it will continue up till 7:20 pm on Monday (3rd September).
Therefore, if you want to celebrate the eight avatars of Lord Vishnu then follow these traffic advisory by Delhi Traffic Police.
Check out the famous places where a celebration of Janmashtami will witness by Delhi:
1. ISKCON Temple, Sant Nagar, Amar Colony
2. Janmashtami Park, Punjabi Bagh
3. Laxmi Narain Mandir
4. Santoshi Mata Mandir, Hari Nagar
5. Adhya Katyani Shakti Peeth, Chhattarpur
6. Gufawala Mandir, Preet Vihar
There will be a restriction around Laxmi Narain Mandir on Mandir Marg during Janmashtami on September 3, from 2 pm onwards.
Reportedly, no vehicles would be allowed on Mandir Marg from R/A Talkatora Stadium towards Mandir Marg up to Peshwa Road - Mandir Marg T-point and vice-versa. Also, no vehicle will be allowed on Mandir Lane from R/A Shankar Road to Mandir Marg, Delhi Police said in an advisory.
Check out where buses and commercial vehicles are restricted:
1. R/A GPO and Kali Barg - Bhai Veer Singh Marg towards Kali Bari Marg
2. Kali Bari Marg -Udyan Marg towards Mandir Marg
3. Panchkuian Road - Mandir Marg 'T'-Point towards Mandir Marg
4. Peshwa Road towards Mandir Marg
5. R/A Gole Market towards Peshwa Road
6. Park Street - RK Ashram Marg T-point towards Kali Bari Marg
7. Peshwa Road-Udyan Marg T-Point towards Mandir Marg
8. R/A Talkatora Stadium towards Mandir Marg
9. Kali Bari Marg - R.K Ashram Marg towards Mandir Marg
10. Mandir Lane from R/A Shankar Road to Mandir Marg
Also read: After Laila Majnu, Imtiaz Ali to direct an eternal love story of Radha Krishna; announcement on Janmashtami